Kirt Blattenberger
Carpe Diem!
(Seize the Day!)

Even during the busiest times of my life I have endeavored to maintain some form of model building activity. This site has been created to help me chronicle my journey through a lifelong involvement in model aviation, which all began in Mayo, MD ...

Webmaster:
Kirt Blattenberger
BSEE - KB3UON
Family Websites:
RF Cafe | Equine Kingdom

All trademarks, copyrights, patents, and other rights of ownership to images and text used on the Airplanes and Rockets website are hereby acknowledged.
Crossword Puzzle

December 4, 1965 TV Guide

Table of Contents
Before the advent of YouTube and other video sharing venue via the Internet, broadcast television was THE medium for visual entertainment other than an occasional jaunt to the movie theater. You either watched shows when they first aired or hope to catch them on reruns. TV Guide was THE go-to publication for all things television. Out of print now, it was for many of us the schedule setter for Saturday morning cartoons and Prime Time comedy shows.

TV Guide crossword puzzles were always my mother's favorite Sunday evening pastime. It's not that she couldn't handle the New York Times' notoriously challenging crossword, it's just that The Evening Capital newspaper didn't have a Sunday edition so we didn't get the puzzle. My father worked as the classified advertising manager at The Evening Capital so we received a free subscription tot he paper.

This particular crossword puzzle appeared in the edition of TV Guide that featured the first-ever airing of "A Charlie Brown Christmas" which I bought on eBay, so I figured I might as well scan and post it. Enjoy!

Back in the day I was not an avid crossword puzzler, but I am now a daily worker of crossword puzzles and once a week I even create a custom crossword for visitors of my RF Cafe engineering website.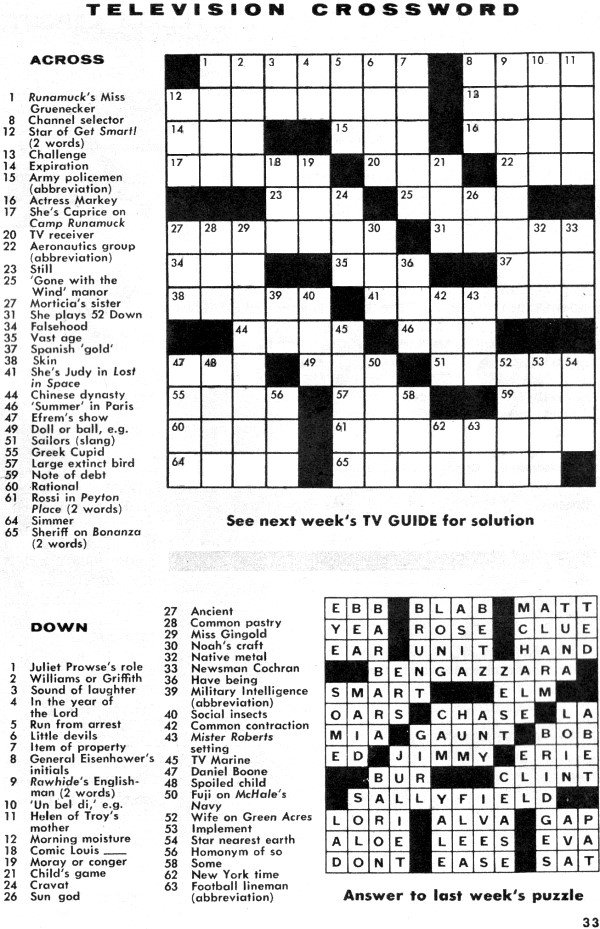 Crossword Puzzle
Posted November 30, 2013