American Modeler published stories on many forms of modeling including airplanes, cars, boats, and rockets. A lot of attention was paid to teenagers in order to encourage a pursuit of careers in engineering and science. In case you don't know, the U.S. Navy used to sponsor the AMA Nationals specifically to attract young modelers into the service. This 1957 edition reports on the activities of James M. Blackmon, Jr., who was the nation's youngest rocket builder to receive national recognition by the American Rocket Society. He built in his basement a 6' tall liquid-fueled rocket model. Fortunately for him, his parents and the CAA (now the FAA) put the kibosh on the flight testing before a potential hazard could emerge. Lots of kids lost fingers and eyes to such experimentation prior to Estes introducing solid propellant rocket motors. Nevertheless, Jim's efforts attracted the attention of U.S. Army's Redstone Arsenal personnel in Huntsville, Alabama, and he even talked with Dr. Werner von Braun.
Dope Can

Here's the place where all good glue-men gather - put the lid on-the dope jar while we bring you up to date on what's cookin' in the world of modeling
Several unusual model clubs are covered in this issue. You've probably noted the report on the Park's Cloud Hounds groups by Russ Nichols. Below we have the flying slip-stick emblem of Purdue's Aeromodelers.
This organization was established in the late thirties by students, among them the well-known Jim Cahill, international Wakefield champion. Active ever since, the Aeromodelers have their own club workshop complete with construction desks and power tools. Business meetings are held one night each week; members have access to the clubroom-building shop at all times.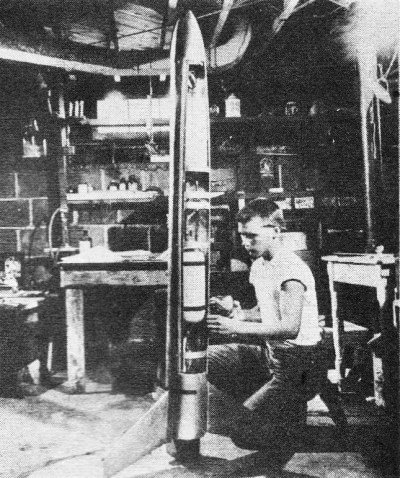 New officers are elected for every school term; the club is sponsored by the Purdue Memorial Union. Activities cover all phases of model building; the Aero-modelers hold contests for all categories, with emphasis on hand-launched gliders, free flight and U-Control. During the winter months their flying is conducted indoors in both the Purdue University armory and field house.
Chartered by the A.M.A., Aero-modelers have held numerous national records.
We Like You to Meet. This month we want you to shake hands with James M. Blackmon, Jr., of Charlotte, N. C. (1815 Club Rd.). Seventeen years old, Jim is the nation's youngest rocket builder to receive national recognition by the American Rocket Society.
Along with this recognition, Jim received the $1,000 ARS-Chrysler Corp. science-youth award at the ARS 11th annual meeting. This is the first prize he's ever won, but he certainly started at the top!
First working as a rubber-powered model plane builder 10 years ago, Jim became interested in rocketry, started reading every thing he could get hold of on the subject. In fact, he says, he pretty near memorized Zim's "Rockets and Jets" book!
When he was in the 9th grade science class he decided to really dig into the subject. Eventually he began working on small size rockets. Last summer he turned out a 6-foot "bird" in his basement shop. He was planning to fire it from a farm outside Charlotte when the Civil Aeronautics Administration heard of his intent and ruled it would violate air regulations. (All junior rocketeers, please note.)
Army missile experts were intrigued by his rocket and offered to examine it at the Redstone Arsenal, Huntsville, Ala., center of the Army's missile activity. The fundamental design and engineering in the home-make rocket were highly praised by the military missile scientists.
Unfortunately, it was found that Jimmy's basement workshop could not turn out the necessary material for control and mixing of the liquid nitrogen, gasoline and liquid oxygen which were to propel the rocket and it was "grounded."
In describing his rocket, Jim says, "Its nose is a $5 metallic lampshade. Each of the fuel tanks has its own valves and gauges. The combustion chamber is 6" long and 2" in diameter." He installed a dry ice cooling system to keep the aluminum nose cone from melting under the 3,000° (C.) temperature it would reach in flight.
That lampshade had the Army's missile experts stumped until Jim told them what it was. "We wondered how in the world a youngster had machined it," one Redstone scientist said, "then he told us it was made from a modernistic aluminum lampshade.
"We spend thousands of dollars and use all kinds of complicated formulae to determine the exact curve of the warhead - Jimmy started with the best warhead he could find and then built the rest of the rocket around. it."
Although his first rocket was grounded, Jim's disappointment was eased by the offer of a post-college job at Redstone and the lengthy talks he had with such authorities as Dr. Werner von Braun, one of the creators of the German V-2 and now director of development operations for the Army's ballistic missile agency at Huntsville.
Rocketman Blackmon graduates this year from Phillips Academy where he is president of the Chess Club, Science Club veep and a member of the German Club. When we talked with him he was undecided whether to try for M.I.T. or Cal-Tech. "Depends," he said, "on which has the best program available in the missile field when I finish up at Phillips."
From rubber-powered models to missiles from a 59c kit to a $1,000 award, is quite a jump. But we predict you'll be hearing more from ex-modeler Blackmon as time zips by.
| | | |
| --- | --- | --- |
| Also 2 years old is Westminster, Maryland Flying Groundhogs club. Wings are yellow, plane red, brown animal. | Club emblem from Cleveland in red, white, black; Cleveland Airfoilers are 26, 2 years old. | Purdue University club has white slide rule, gold wings. (We pay $10 for designs shown.) |
Contest Calendar
Each issue we list all coming competitions. Notice of these should be sent to American Modeler at least 90 days in advance. List also special hobby shows, model exhibitions, R/C get-togethers, technical sessions, "open house" gatherings, and other events of direct interest to readers.
Send listings to "Contest Calendar," care of this magazine.
OHIO-Toledo. March 9. R/C Convention sponsored by R/C Club of Detroit and Weak Signals of Toledo.
Noon to 11 pm
Posted December 28, 2013