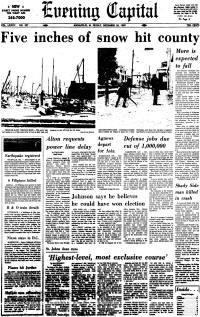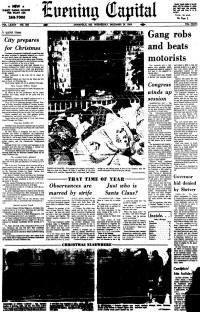 A white Christmas was not exactly a common thing in the Mayo, Maryland, area where I grew up. I happened to remember there was a Christmas sometime when I was around 12 or 13 years old and our family was at my Grandmother's house for dinner. It unexpectedly began snowing in the late afternoon (no up-to-the-minute Internet weather forecasting like today). That happened to be the same year I received my Cox Sky Copter free flight helicopter. I recall being outside trying to get the darned Cox .020 engine started in the cold - probably using a worn out "D" cell battery as was often the case since I couldn't afford a "real" Cox starter battery. I had brought the heli with me from home since it was my prized gift for the year, and I couldn't wait until the day after to send it skyward on its maiden flight.
As we were eating dinner, everyone was talking about the snow piling up outside, and wondering when we should leave before the roads got too slick for safe travel. My parents' Rambler didn't to too well in snow, especially on the typically near-treadless recapped tires that it sported. As I recall, we left slightly after it was still reasonably safe to go, and we had an exciting 5-mile drive to 114 River Road in Holly Hill Harbor.
Since I have a paid subscription to the Newspapers.com website, I decided to check out the December 26th editions for the late 1960s and sure enough, it was Christmas of 1969. The hyperlink for the two screen shots is a PDF version of all 20 pages of the Christmas Eve edition (December 24, 1969 - see page 2 for the forecast), and the front page of the day after Christmas (December 26, 1969) that reported on the snowstorm. According to the story, that 5" was "The heaviest Christmas Day snowfall ever recorded at Friendship International Airport" (today it is called Baltimore-Washington International Airport, BWI). Enjoy!
Posted October 1, 2016