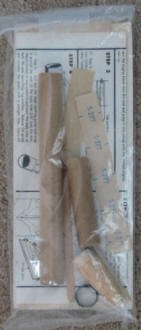 The Gyroc is no longer in production. A unique system reconfigures the fin trailing edges to cause a high rate of spin after the engine ejects out of the back end. It slows the rocket to a safe speed for recovery due to excess drag created by the spinning.. My original Gyroc that I had as a kid ended up in the trees behind our house. I spent hours searching for it. You might think I eventually learned to not launch rockets from our small backyard, but I didn't. Many others were sacrificed to the Rocketus Eatumupus (L.) trees in that were indigenous to the area.
These kits are selling on eBay for over $100.
The heavy paper top of the package is missing, but otherwise it is complete, and everything is in like-new condition.
Here is a list of my other rocket models.