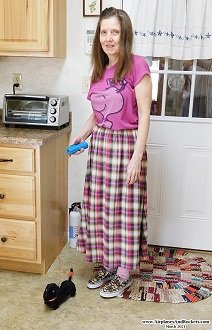 Melanie and I have been trying to recall toys and games we had as kids and then searching for them on eBay to see what is available. If the price isn't too outrageous, we go ahead and by them. Melanie remembered having a battery-powered electromechanical toy dachshund that had a hand-held controller (not much in the way of radio control back in the 1960s). She finally managed to find one, so we bid on it and got it for a decent price (I don't recall exactly how much, but around $30 + shipping).
It was advertised as not working, but I figured how hard can it be to fix something that simple? The dog, controller, and box looked to be be in excellent condition for its age (manufactured in the later 1950s from what I can find). The problem ended up being that a wire had broken off the motor. A little solder fixed that, and now it works as good as new. While apart for repair, I saw that the front and rear body halves are connected with a large spring, and the wheels and motor a on a freely rotating platform which allow it to move randomly.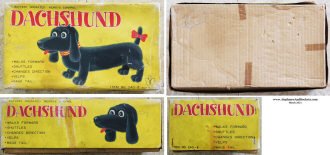 In the forward direction, the Dachshund scoots ahead without making any noise (except for the sound of the motor and wheels), while wagging its tail. In reverse, it backs up while opening and closing its mouth and barking (or yipping, more accurately). Two "D" cells in the hand controller provides power with a sliding switch for forward and reverse.
Per the box: * Walks Forward * Shuttles
*Changes Direction * Yelps * Wags Tail
Posted February 12, 2023