I've been posting some advertisements from vintage Aero Modeller for the sake of British model aircraft and boat enthusiasts who appreciate a reflection back to a time when a stroll through London to visit a hobby shop didn't make you think you had been transported through a Einstein-Rosen space-time bridge (aka wormhole) to Saudi Arabia. I read in the news that the town is quite the different experience these days, but I digress. A couple weeks ago, I posted a listing of some of those area hobby shops that you might remember. More will follow.
Telasco RMA Aircraft Accessories
RMA Aircraft Equipment
RMA "Mactuator"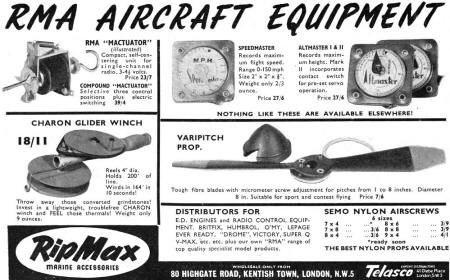 (illustrated) Compact, self-centering unit for single-channel radio. 3-4 1/2 volts.
Price 23/7
Compound "Mactuator"
Selective three control positions plus electric switching 39/4
Speedmaster Records maximum flight speed. Range 0-150 mph Size 2'" x 2'" X 5/8". Weight only 2/3 ounce.
Price 27/6
Altmaster I & II Records maximum height. Mark II incorporates contact switch for pre-set servo operation.
Price 27/6
Nothing Like These Are Available Elsewhere!
Charon Glider Winch
18/11
Reels 4'" dia.
Holds 200' of line.
Winds in 164' in 10 seconds!
Throwaway those converted grindstones! Invest in a lightweight, troublefree Charon winch and Feel those thermals! Weight only 9 ounces.
Varipitch Prop.
Tough fibre blades with micrometer screw adjustment for pitches from 1 to 8 inches. Diameter 8 in. Suitable for sport and contest flying Price 7/6
Distributors For
E.D. Engines and Radio Control Equipment. Britfix, Humbrol, O'My, LePage Ever Ready, "Drome", Victory, Super Q V-Max. etc. etc. plus our own "RMA" range of top quality specialist model products.
Semo Nylon Airscrews
6 sizes
IMAGE HERE
The Best Nylon Props Available
Wholesale Only From
80 Highgate Road, Kentish Town, London, N.W.5
Telasco Export Distriubtors
41 Glebe Place
London, S.W.3
Posted May 28, 2016