Kirt Blattenberger
Carpe Diem!
(Seize the Day!)

Even during the busiest times of my life I have endeavored to maintain some form of model building activity. This site has been created to help me chronicle my journey through a lifelong involvement in model aviation, which all began in Mayo, MD ...

Webmaster:
Kirt Blattenberger
BSEE - KB3UON
Family Websites:
RF Cafe | Equine Kingdom

All trademarks, copyrights, patents, and other rights of ownership to images and text used on the Airplanes and Rockets website are hereby acknowledged.
Guillows PBY-5a Catalina

by Jim Wander
Mr. Jim Wander and I met on the Internet when I answered a Craig's List ad for a Sig Citabria kit for sale. Jim lives outside of Cincinnati, OH, and I live in Erie, PA, so he had to go to the trouble of packing and shipping the kit rather than just handle a local deal as with most Craig's List sales. The whole exchange (his Citabria for my $$$) went very smoothly.

During our series of e-mails and phone calls, he mentioned that he had built a Guillows PBY-5a Catalina model as an open-frame display subject. Jim was kind enough to provide me with the following photographs of his model, which I am honored to make available here. It is a shame to cover such craftsmanship and not be able to admire the artistry of it, so lucky for us he decided to leave it uncovered.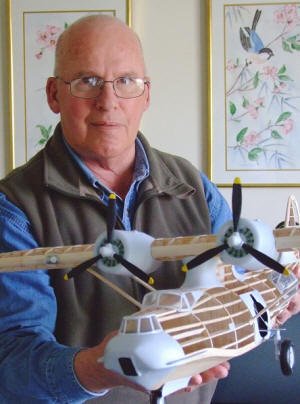 Having built a Guillows DC-3 model myself, I can attest to the attention to detail that exists in the Guillows kits, and the large number of parts - often small parts - that need to be assembled. Many vacuum-formed components must be cut out and glued together, as can be seen in these images. As if that was not enough work, printed cardboard and paper parts need to be cut out and placed as well. Even the propeller blades need to be shaped and painted.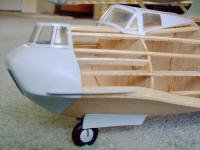 There are modelers out there who adapt these larger scale Guillows kits to radio control flight. One example is Bill Gaylord, whose amazing work is displayed here on Airplanes and Rockets along with some of the Internet forums.



Buy a Guillows PBY-5a Catalina Model Philip, Sally & Melanie with a PBY-5 Catalina


Academy of Model
Aeronautics

Tower Hobbies