It is too bad that the Jetex series of engines is no longer being manufactured. They were source of affordable real "jet" engines back in the 1960s and 1970s when I was a kid with only paper route money for financing my habit. If you were lucky enough to get the wire fuses to ignite the pellets, the little Jetex 50s made a great whooshing sound as they propelled your balsa model through the air. My friend, Jerry Flynn, and I mounted them to the dime store Guillows balsa stick and sheet gliders. Here is a plan for a little more sophisticated model called the Supersonic Sam.

This particular page is from page 29 of the June 1957 issue of American Modeler magazine. The Supersonic Sam used the Jetex 50 motor. All copyrights (if any) are hereby acknowledged.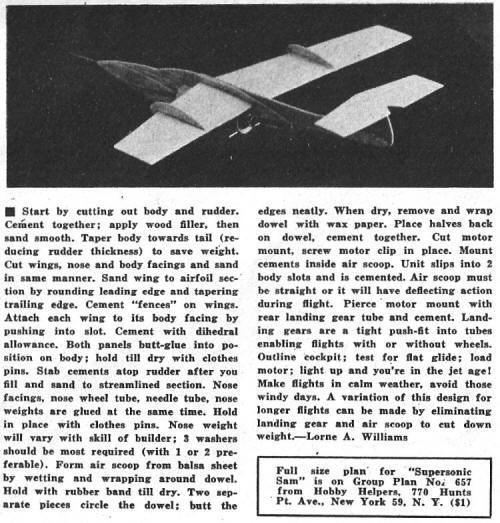 Try out my Scale Calculator for Model Airplane Plans.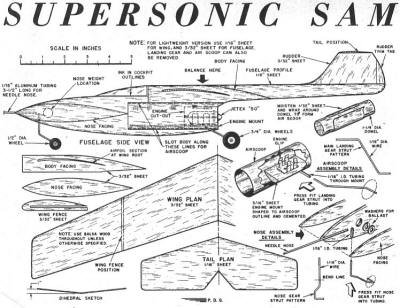 <click for larger version>
Notice:
The AMA Plans Service offers a full-size version of many of the plans show here at a very reasonable cost. They will scale the plans any size for you. It is always best to buy printed plans because my scanner versions often have distortions that can cause parts to fit poorly. Purchasing plans also help to support the operation of the Academy of Model Aeronautics - the #1 advocate for model aviation throughout the world. If the AMA no longer has this plan on file, I will be glad to send you my higher resolution version.