March 2019 Update:

Steven's Ace newly completed Whizard #2 sports a Cox TeeDee .049 engine with a 2 oz. fuel tank. That will extend the flight time from 2-3 minutes to about 10 minutes. Ace mini foam wing panels are used. Now, if only the snow would melt...

Note Cox TeeDee .049 and separate fuel tank.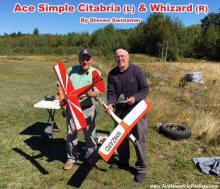 Canadian website visitor Steve S. is an avid builder and flier of vintage model airplane designs that are powered by Cox .020 and .049 engines. He has in the past submitted building and finished photos of his Quarter Pint, So-Long, Ace Simple Citabria, and Ace Pacer models. As is evident by the many photos below and with his other models, the level of craftsmanship is quite high and so they serve as great examples to anyone in search of tips on how to properly build small R/C models.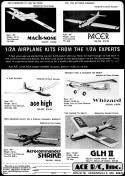 Said Steve in his e-mail, "While not a feature in AAM, (although Ace ran lots of ads for the kits from 1974 on) I recently scratch built an Ace Whizard from plans and using the foam wings that Ace supplied with the kits*. They were rudder only but I added elevator as well and power with a Cox Black Widow .049. It's ready to fly, the engine is running well but I have to wait until spring now. I am always taken back at how overbuilt these designs were as compared by today standards, but by selecting light wood they come out at a decent weight. I guess that is why they lasted so long."
There is definitely a noticeable difference between the older model construction and modern kits. Laser cutting of the wood parts has make incorporating lightening holes and keyed joints more precise so that less material and adhesive is required for equivalent or greater strength. The pre-built wood-frame models are amazingly well engineered using almost all plywood that has been extensively lightened through use of material removal. The structures look a lot like full-size home-builts. We've come a long way, baby, as the old Virginia Slims ads used to claim!
October 2018 Update:

Back in 2015 you posted pictures of the Ace Whizard I was building. I finally got around to flying it this year. It flies fantastic and is so much fun, I got over 50 flights on it. Very maneuverable on rudder and elevator, nice loops and barrel rolls, stall turns are fun. Glides well as every landing is power off with the Cox Black Widow. I use the high compression head and the gray 5x3 Cox prop. Flight time is about 3 minutes. Hand launches are hand off until it gets altitude but it will also ROG on our grass field. - Steven
Laser Design Service offers offer a balsa built-up version of the foam wing.
See Steven's Bee-Tween, Ace Whizard, Simple Citabria, Simple Duster, Quarter Pint, So-Long, and Ace Pacer models.
Posted January 11, 2015