"Come away with me, Lucille, In my merry Oldsmobile. Down the road of life we fly, Automo-bubbling, you and I. To the church we'll swiftly steal, Then our wedding bells will peal, You can go as far as you like with me In my merry Oldsmobile." "In My Merry Oldsmobile" was first produced in 1905" with music by Gus Edwards and lyrics by Vincent P. Bryan. That was prior to Henry Ford's Model T hitting the showroom floors. Contrary to popular belief, the Model T (introduced in 1908) was not the first car built in America; it was the first high volume production line car to be produced using an assembly line - Ford's famed innovation. Ransom Olds sold his first car in 1900, as presented in this 1954 issue of Air Trails magazine. The Wikipedia entry for Oldsmobile claims their 1902 model was the first mass-produced auto in the country. Who am I to challenge them?
See Auto Progress Memory Lane #1, #2, #3, #4, #5
Auto Progress - The Oldsmobile Story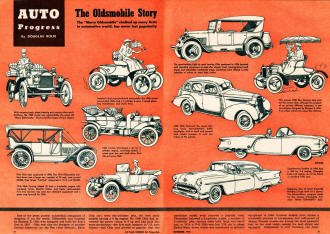 The "Merry Oldsmobile" chalked up many firsts in automotive world, has never lost popularity.
By Douglas Rolfe
America's first mass-produced automobile, the 1900 model curved-dash Olds, had a 1-cylinder engine, 2-speed planetary transmission and chain drive.
With tonneau body, wheel steering and various other modifications, the 1904 model was substantially the same old "Merry Oldsmobile." Had somewhat larger (8 hp) engine.
1906 models introduced a 26 hp 4-cylinder engine, cone-type clutch, 3-speed gear box and shaft drive. First side-entrance Olds.
First Olds sixes appeared in 1908. The 1910 Oldsmobile limited shown was a large car, capable of 75 mph, cost around $4,000. Even larger "Limited" appeared in 1912, cast $5,000.
1915 Olds Touring Model 42 had a 4-cylinder engine with overhead valves. Electric starter and lights, demountable rims and one-man top were now standard equipment and a great step forward for Olds.
One of the great pioneer automobile companies of America, if not the world; Oldsmobile was founded by Ransom E. Olds who designed and built the firm's first in 1897. Olds was also the designer of another famous American car, the Reo (now defunct). Early Olds cars were one-cylinder jobs, the very early models having a 4 hp engine. By 1900 Olds had increased the power rating to 8 hp and had gone into mass-production - the first such instance in U.S. auto history - and Olds cars proved so popular that this
The good-looking light six sport touring Olds produced in 1924 boasted such standard equipment as steel disc wheels, trunk, running-board scuff plate, and adjustable windshield wings. Customers were offered a wide selection of colors to meet their tastes.
This curious 1905 Reo belongs here only for the reason that, although the product of an entirely different company, it was nevertheless designed by Ransom E. Olds, from whose initials the name Reo derived.
1935 Olds featured the turret top, long hood, Vee-windshield, bullet headlights, built-in trunk and pressed steel wheels common to most top makes of the period.
Experimental Starfire of 1953 had a 200 hp V-8 engine, Fiberglass body and styling now to be found in standard Olds cars. Sweeping lines of latest Super'" Holiday Coupe show at a glance the extraordinary progress made by this pioneer automobile firm since "Merry Oldsmobile" days.
particular model even inspired a popular song. Thereafter followed a 2-cylinder model, a number of 4-cylinder jobs, various sixes both large and small and, in 1916, a V-8. Olds was first U.S. car to adopt Hydra-Matic drive, which was introduced as optional equipment in 1940. Postwar models have shown a consistent increase in horsepower and refinement of design. Present models are among the most powerful cars on the road today, among the best styled and equipped. Oldsmobile is still traveling out front.
Posted November 21, 2020