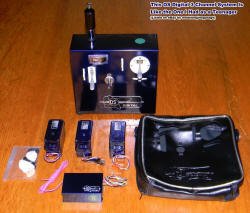 The O.S. Digitron DP-3, 3-Channel Radio Control System was my first radio control system. After watching eBay for an affordable set, I finally found one in January of 2017 for a little over $100. It is in pretty good physical condition, but I have not tried to power it up to to see whether it works. The frequency is 27.095 MHz (my original was on 27.195 MHz). The photo to the right is a set that sold for a few hundred dollars; it included the leather transmitter case, which the one I just bought did not have.
My plan is to buy a modern spread spectrum 2.4 GHz radio and swap out the electronics in the O.S. Digitron DP-3 transmitter. I will have to rig the trim tabs to be spring-centered with switch contact on each side of center since analog (potentiometer) trims are no longer used. The 2.4 GHz antenna will mount in place of the original telescoping whip antenna. I'll probably build a couple .049-powered two- or three-channel airplanes to fly with the converted system, using the new type receiver and miniature servos. Photos of the project will be posted when complete.
Below are all the pages from the O.S. Digitron DP-3 user manual. If memory serves correctly, the original was printed on heavy paper and the covers were a sort of stiff fabric. The system I just bought had a poor photocopy on 20-lb. printer paper. A little work with an image editor cleaned it up pretty well.
Posted April 28, 2017