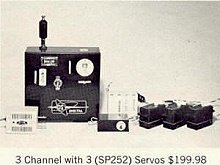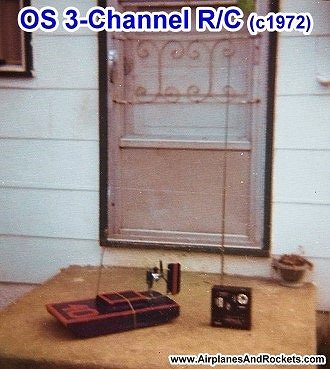 The OS Digitron DP-3, 3-Channel Radio Control System was my first radio control system. To the right is a photo of my system, that was first installed in a homemade air boat (Cox .049 used for power). The transmitter and the receiver both had a dark blue, metal case.
At one point I installed the OS Digital 3-Channel radio in my Andrews S-Ray model airplane. It had a steerable nose gear and throttled engine, which allowed me to run it up and down the road in front of my house for fun - yes, at 13-14 years old that counts as fun. My neighbors begged to differ, however, since the transmitter, at 27.195 MHz spewed some pretty significant harmonics (television interference, TVI) at the VHF television channels. The 2nd, 3rd, 6th, and 7th harmonics fell squarely into the band. When I switched the transmitter on during the summer afternoons when soap operas and game shows were being viewed, housewives within three or four houses of mine would stick their heads out the door and yell at me to turn it off. VHF channel 5 seemed to be the most vulnerable to my interference. They weren't too thrilled with the engine noise, either.
The pictures below is my OS Digital 3-Channel that I bought off of an eBay auction. It looks exactly like the system I had. It did not come with the sewn leather case that went on the transmitter, so I am still looking for one if you know where it can be gotten. The case came in handy once when I left the transmitter sitting on top of my car after loading the airplane and field equipment into the car, then puling out of the driveway and seeing the transmitter bounce off the road. Yikes. The only damage was a hole in the side of the leather case where one corner of the metal case punched through.
I would like to one day install the electronics from my Futaba Skysport T4YF transmitter (72.750 MHz FM) into it for use with my Spirit glider.
See other Vintage Radio Control Systems here.
Here is a photo of an OS 6 channel radio that went up for bids on eBay in July of 2008. I've been waiting for one of the 3 channel models.
Posted September 14, 2015