When I bought this 1976 vintage Snoopy telephone on eBay, the seller didn't disclose that the Volume level in the earpiece was very low, including the ringtone. Technically it worked so I couldn't claim fraud, but it worked poorly. So, I began doing a bit of research on the Internet and found that a lot of people were having similar problems with the Snoopy phone and a couple other novelty models (Mickey Mouse, Winnie the Pooh, M&Ms dude, et al) that were based off the same Western Electric design. I planned to clean up the phone and put it into service, but wanted to make sure it was functioning properly before going to the trouble. (see my other Peanuts paraphernalia)
The first thing I did was some standard continuity tests to make sure signals could flow from point to point. I discovered a strange little plastic box that had a couple passive components and a single IC package in it. Figuring it might be a diode bridge, I tested it and discovered that one of the four diodes was open circuited and another other had a strange high resistance. I looked for a description of the circuit on the Internet but did not find an exact reference to that box, just a polarity correction circuit for instances where the house phone wiring was backwards (tip and ring reversed). That made perfect sense for a bridge circuit. Rather than replacing the diodes, I used a plug-in telephone tester to verify that my wall jack had the proper polarity and simply hardwired the phone's red and green input wires to the network network terminal block. Doing so brought the ring tone Volume level back on par with the voice Volume, but both were still too low.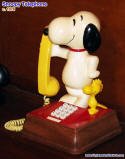 After a little more troubleshooting I discovered that one of the contact points in the keypad assembly was making intermittent contact and always had high resistance (~200 ohms). Burnishing both the post and the metal leaf spring brought it down to near zero ohms, so I did the same thing to the other switch points as well. I plugged the phone back into the wall and viola!, a perfectly normally operating telephone!
Encouraged by my success, I bought a second Snoopy phone on eBay for parts to assemble the best I could get from the two separate phones (the first had nicks on the handset). Now I have two Snoopy phones that are functional. One is in very excellent condition cosmetically (for a 40-year-old phone) and the other is nearly as good with only a couple minor marks.
During the process I took a lot of photos. It is amazing how robust the components were back in the days when only licensed manufacturers were permitted to build equipment for connecting to the public phone lines. Bell Telephone Company was a true all-powerful monopoly before they were broken up in 1984 into 'Baby Bells'. Soon thereafter a plethora of new phone models were available with increasingly feature-filled capabilities. Before the breakup, Ma Bell would charge you for each telephone you had in your house. I remember sometime in the early 1970s when my parents had to disconnect my sister's contraband Princess phone because a man on our street that worked for the phone company warned us that Bell was performing impedance tests in the area to determine whether people had more phones than they were being billed for.
These photos were taken primarily to serve as documentation of how everything was configured prior to a total disassembly and cleaning. I wanted to be sure to be able to put it back together later. I do the same thing for a lot of repair projects instead of relying on an increasingly failing memory. A couple years ago I needed to disassemble the timing assembly on my son's Ford Ranger truck and took photos of the inside of it while removing the broken cam. It was nice to be able to refer back to the images during reassembly to be sure it was going back together correctly. The entire thing was a pain to get to behind the engine, and I didn't want to have to do it more than once. I'll eventually post the cleaned-up and reassembled photos.
(ringer side)

(topside)

(underside)

(case)

(bell)

(plastic cover)

(bottom)

(keypad side)

(underside)

(topside)

(bottom)

(close-up)

(bell off)

(top)

(bottom)

(top)

(top edge)

(right edge)

(bottom edge)

(left edge)

(top)

(wiring overview)

(wiring right)

(wiring top)

(wiring left)
Posted February 11, 2014