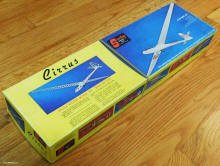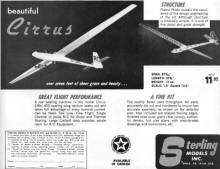 Back in the early to mid 1970s, I built a Sterling Cirrus sailplane kit. Shortly thereafter I bought my first radio control system (a used 3-channel OS Digitron set), and in a somewhat desperate attempt to fly an RC glider, actually managed to cram two of its huge servos, a huge metal-cased receiver, and a NiCad airborne battery pack (the only part that has not gotten smaller in the intervening 50 years) into the cockpit area. Although the cockpit was very spacious, the balsa frame construction was way too weak to support a radio system, but that didn't stop me... well, not right away anyway. The ready-to-fly weight was probably three times the recommended 12 ounce nominal. (Here is the Graupner Cirrus sailplane kit)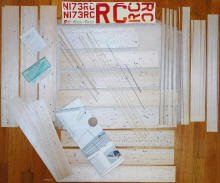 Although the Cirrus has a generous 87-5/16" wingspan, with it 25:1 aspect ratio, the root chord is only a little over 4" and the wingtip chord is around 1". Even with vertical sheer webbing between the upper and lower main spars, the wing was far too weak for so much weight. After much work covering the undercambered airfoil and compound curves around the fuselage with Japanese tissue and brushing on a few coats of clear dope, it was finally ready to fly.
The first couple "flights" consisted of tossing the Sterling Cirrus off a little ridge about 3 feet high, at Klinkin's Field, in Mayo, Maryland. The flimsy wings flexed up into an extreme curve - it's amazing that they didn't break. The landings were in soft, long grass, so the craft survived. That was all well and good, but it was not exactly satisfying flying. Somehow, I talked my father, who was skinny and no athlete, into running with a tow line in an attempt to get it aloft. Between the two of us, the Cirrus was rendered unusable after about an hour. Oh well, live and learn (or don't learn).
May 12, 2021 Update: At long last I managed to get a nice Sterling Cirrus Sailplane kit on an eBay auction at a reasonable price! All the photos shown here are from my kit.
Posted May 8, 2019