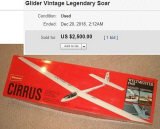 Back in the early 1970s when first entering the realm of radio control, I loved sailplanes (aka gliders) because of their graceful appearance. Gliders were also the only reasonably priced models with long wingspans, so there was that, too. My first glider was a Sterling Cirrus (87" wingspan), which was not meant for R/C other than a very compact and lightweight escapement system with a single channel on rudder. I made the tragic decision to install two servos from my newly acquired, used OS Digitron DP−3, 3-channel radio. It made the model so heavy that the thin wings could barely support it. About three or four flights did it in. From there I graduated to a Marks Models Windward (72" wingspan) glider, then to the Windfree (99" wingspan). My ultimate experience was with an Airtronics Aquila sailplane (99" wingspan) with a third channel operating wing flaps.
This Cirrus model by Graupner, with its amazing 3,000 mm (118") wingspan and an ABS molded plastic fuselage was one of the kits that was not within reach of my meager budget. At the time (c1976) the retail price was somewhere in the $60 range, which in today's highly inflated dollars is the equivalent of about $285. Judging by what a Graupner Cirrus glider kit sold for on eBay in 2018 ($2,500), I should have worked a second job to buy one back then and put it in storage to sell today. It would represent a 750% ROI in inflated dollars, and a whopping 4000% compared to the original $60 price!
Here are some of the images that accompanied the listing. It looks a lot like the Aquila, except the nose is narrower. There appears to be a molded plastic power pod that would insert between the wing halves. Maybe that is why there was a fuel tank included in the sale.
| | | |
| --- | --- | --- |
| These images were posted on eBay | These images were posted on eBay | |
Posted April 2, 2023