In looking at this advertisement by Douglas Model distributors in the September 1949 issue of Air Trails magazine, you might wonder what type of models Douglas was distributing. Of course if you want to sell products and service to men (and boys), one of the best gimmicks to use is a pretty - and shapely - girl (see the AeroGloss ad also on the page). Marketeers have been onto that angle since the dawn of civilization. The company was located in Salt Lake City, Utah, at the time of this advertisement, but a search for https://douglasmodels.com/ shows they are now (if it is the same company) set up in Liberty, Missouri. On their webpage there is a note about their retail distributor business called Sprue Brothers Models, which is funny because a "sprue" is the little section of plastic on a model kit injection molded parts tree that connects the parts to the tree. I'm guessing the company name is a play on the process.
Douglas Model Distributors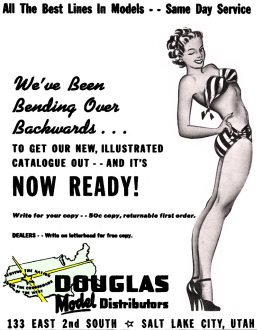 All The Best Lines In Models - - - Same Day Service
We've Been Bending Over Backwards ...
To Get Our New, Illustrated Catalogue Out - - and It's Now Ready!
Write for your copy - - 50¢ copy, returnable first order.
Dealers - - Write on letterhead for free copy.
Douglas Model Distributors
133 East 2nd South • Salt Lake City, Utah
Posted April 9, 2022