Just as with the Douglas Model Distributors ad appearing on the same page of the September 1949 issue of Air Trails magazine, you can see how marketing people knew how to get the attention of men and boys. Victor Aerosearch ("aerosearch" possibly being an allusion to "aeronautical research"?), maker of the very popular (at the time) AeroGloss hot fuel-proof dope, employed the same eye-catching technique. Of course both companies leveraged the dual meaning of the word "model" to their advantage. Some people like to say you only need to use an attractive model to get people to notice your product if the product is not attractive enough on its own to garner interest. Others say the girl serves two purposes - to get the attention of men in the business and to suggest that if you use this particular product, you will naturally draw the attention of girls who look like the one in the ad. Both arguments have merit, but I'm guessing the most prevalent one is the latter rather than the former.
Victor Aerosearch AeroGloss Ad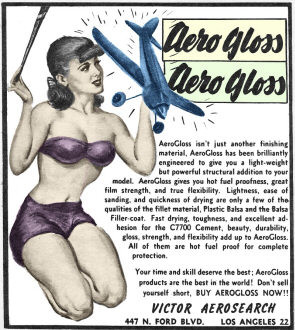 AeroGloss isn't just another finishing material, AeroGloss has been brilliantly engineered to give you a light-weight but powerful structural addition to your model. AeroGloss gives you hot fuel proofness, great film strength, and true flexibility. Lightness, ease of sanding, and quickness of drying are only a few of the qualities of the fillet material, Plastic Balsa and the Balsa Filler-coat. Fast drying, toughness, and excellent adhesion for the C7700 Cement, beauty, durability, gloss, strength, and flexibility add up to AeroGloss.
All of them are hot fuel proof for complete protection.
Your time and skill deserve the best; AeroGloss products are the best in the world! Don't sell yourself short, By AeroGloss Now!
Victor Aerosearch
447 N. Ford Blvd. Los Angeles 22
Posted April 9, 2022