Maybe I should be embarrassed to admit it, but for some reason Kenhi is not a familiar name to me. The company from Bburbank, California kitted half a dozen control line stunters, the most notable of which was the Panther, by Hi Johnson. This advertisement appeared in the November 1953 edition of Air Trails. Another Kenhi model, the Cougar, is kitted today by RSM Distribution for competition in the Classic Stunt class. My BJM Enterprise-E electric control line stunter was cut and kitted by RSM, so I know they provide a quality product.
Kenhi Advertisement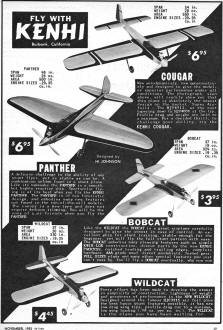 Fly with Kenhi
Burbank, California
Cougar
Span 54 in.
Weight 28 oz.
Area 550 in.
Engine Sizes .29 .35 cu. in
$6.95
New aerodynamically, new constructively and designed to give the modeler superior performance under all conditions. The photograph, seen above, will readily show you that this plane is absolutely the newest design on the market. Super Airfoils - the HJ04512, at the root tapering down to HJ04006 at the tip. Profile drag and weight are held to a minimum. For a decided thrill, to challenge your ability, try the Kenhi Cougar.
Panther
Span 48 in.
Weight 26 oz.
Area 500 in.
Engine Sizes .29 .35 cu. in
Designed by Hi Johnson
$6.95
A definite challenge to the ability of any stunt flyer, yet as stable as can be. A combination seldom found in a stunt plane. Like its namesake, the Panther is a smooth, but highly reactive ship. Spectacular flying is at its best when you fly the Kenhi Panther. The Panther is of new futuristic design, and embodies many new features not found in the run-of-the-mill models. The canopy is a new type and does not require tedious trimming. You will be the envy of your friends when you fly the Panther.
Bobcat
Span 37 in.
Weight 19 oz.
Area 324 in.
Engine Sizes .19 .35 cu. in
$3.95
Like the Wildcat the Bobcat is a great airplane carefully designed to give the utmost in ease of control. An excellent ship for stunt training, stable enough for the beginner, yet will fly the full stunt pattern with ease. The Bobcat embodies many pleasing features such as simple Kwik-Lok construction, diecut parts by the new Kenhi Process, notched leading and trailing edges, complete hardware, AAA grade wood diecut windshield, formed gear, full sized plans and many other special features you just can't pas by. You'll fly a Bobcat eventually, why not now
Wildcat
Span 37 in.
Weight 20 oz.
Area 330 in.
Engine Sizes .19 .35 cu. in
$4.45
Every effort has been made to develop the utmost in simplicity of construction, lightness of weight and greatness of performance in the new Wildcat. Designed around the famous HJ03515 air foil plus the best basic stunt features possible, it has new low drag wing tips, profile drag cut to a minimum, low wing loading (.06 oz. per sq. in.). The Wildcat is the plane you have been waiting for.
Posted December 11, 2014