This advertisement for the United States Rubber Company's T-56 rubber appeared in the Annual Edition of Air Trails. T-56 was a very popular choice for free flight modelers back in the day.
I posted another ad for them from an April 1957 American Modeler. United States Rubber Company was one of the original 12 companies used to calculate the Dow Jones Industrial Average (DJIA) for the stock market on Wall Street. In addition to manufacturing automobile and airplane tires, it also supplied the free flight model world with T-56 rubber for powering.
United States Rubber Company Ad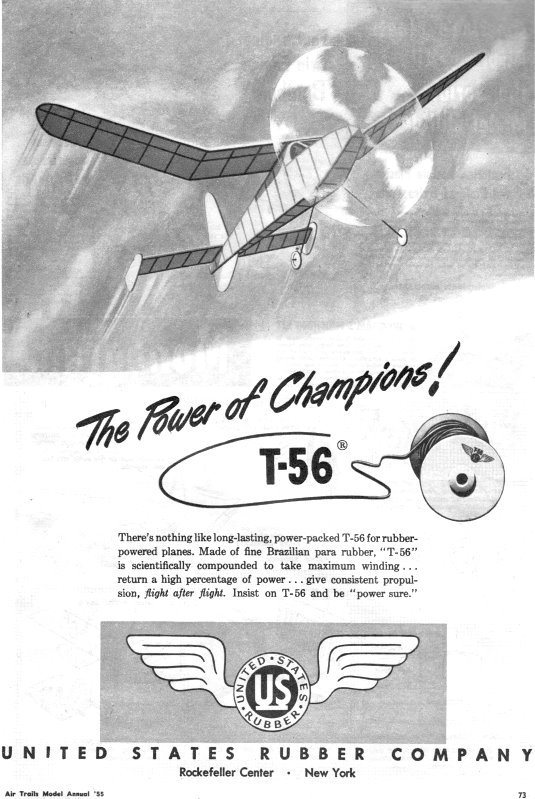 The Power of Champions!
There's nothing like long-lasting, power-packed T-56 for rubber-powered planes. Made of fine Brazilian para rubber, "T-56" is scientifically compounded to take maximum winding ... return a high percentage of power ... give consistent propulsion, flight after flight. Insist on T-56 and be "power sure."
United States Rubber Company
Rockefeller Center New York






(Title)
(Content)

Kirt Blattenberger

Carpe Diem! (Seize the Day!)

Even during the busiest times of my life I have endeavored to maintain some form of model building activity. This site has been created to help me chronicle my journey through a lifelong involvement in model aviation, which all began in Mayo, MD ...

All trademarks, copyrights, patents, and other rights of ownership to images and text used on the Airplanes and Rockets website are hereby acknowledged.

Webmaster:

BSEE - KB3UON

Family Websites:






Posted February 15, 2014