Airplanes & Rockets

Carpe Diem!

(Seize the Day!)

Even during the busiest times of my life I have endeavored to maintain some form of model building activity. This site has been created to help me chronicle my journey through a lifelong involvement in model aviation, which all began in Mayo, MD ...

Webmaster:

BSEE - KB3UON

Family Websites:RF Cafe | Equine Kingdom

All trademarks, copyrights, patents, and other rights of ownership to images and text used on the Airplanes and Rockets website are hereby acknowledged.
United States Rubber Company Advertisement

April 1957 American Modeler
United States Rubber Company was one of the original 12 companies used to calculate the Dow Jones Industrial Average (DJIA) for the stock market on Wall Street. In addition to manufacturing automobile and airplane tires, it also supplied the free flight model world with T-56 rubber for powering. T-56, along with tan rubber from Pirelli, Dunlop, was considered the cream of the crop back in the middle and late 20th century. Many old timers still lament of its eventual disappearance from the market and treasure their hordes of the stuff from days of yore.

Here is U.S. Rubber Company ad from a 1955 edition of Air Trails.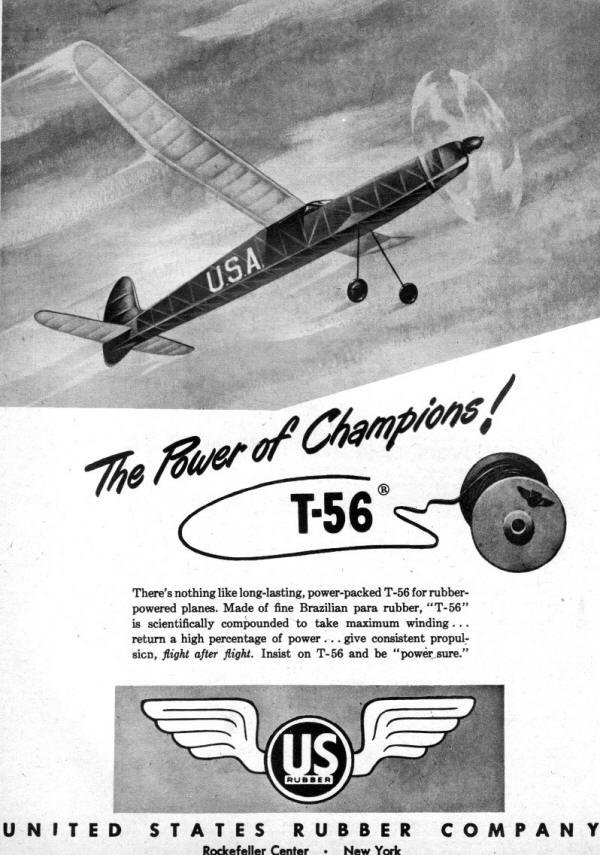 United States Rubber Company Advertisement April 1957 American Modeler



Airplanes & Rockets

Carpe Diem!

(Seize the Day!)

Even during the busiest times of my life I have endeavored to maintain some form of model building activity. This site has been created to help me chronicle my journey through a lifelong involvement in model aviation, which all began in Mayo, MD ...

Webmaster:

BSEE - KB3UON

Family Websites:RF Cafe | Equine Kingdom

All trademarks, copyrights, patents, and other rights of ownership to images and text used on the Airplanes and Rockets website are hereby acknowledged.

(Title)
(Content)
Posted January 4, 2013