Kirt Blattenberger
Carpe Diem!
(Seize the Day!)

Even during the busiest times of my life I have endeavored to maintain some form of model building activity. This site has been created to help me chronicle my journey through a lifelong involvement in model aviation, which all began in Mayo, MD ...

Webmaster:
Kirt Blattenberger
BSEE - KB3UON
Family Websites:
RF Cafe | Equine Kingdom

All trademarks, copyrights, patents, and other rights of ownership to images and text used on the Airplanes and Rockets website are hereby acknowledged.
August 1971 American Aircraft Modeler

Table of Contents
August 1971
Volume 73, Number 2
Cover Photo
The rare P·63F Kingcobra. This Air Force fighter has been in civilian use for many years. Imagine having one of your own. Alvin T. George, Atlanta, loves it. Photo by Jim Sullivan was taken at Gastonia, N.C., antique fly-in.
NOTE: The caption error is in the original magazine TOC. (hat tip to Doug S.)
Hobby Lobby Advertisement
11
The Douglas Mailplane, Gabriel A. Bedish, Jr.
Hot Ca

nary

, Bob Seigelkoff
Po

go

, Bob Morse
Coupled Flaps and Elevators, by Fred Marks
Revolution in Aerobatics - the Acrostar, by Don Berliner
Flying Fortress, by Robert Buenzly
30
The Ryan ST's 'Ugly' Cousin, by Don Berliner
32
Cirrus, by Dr. Walter A. Good
36
For the Tenderfoot: Tenderfoot Trimotor, by Bill Hanna
48
On the Scene: Washington, D.C., Series 71, RC Car Race
12
Junior Open Workbench, by Joe Klause
25
Th

e Zero Displacement Engine

, John G. Burdick
29
Where the Action Is
38
EK'S Little Red Brick Three Channel Flies Don Brown's Cardinal, by Fred Marks
53
Getting Started in RC, by Howard McEntee
54
RC World Championship Details
59
President's Memo, Officer Biographies
61
AMA News Bits
63
AMA News Extra
65
Contest Calendar
66
Editorial - Straight and Level, by William J. Winter
6
Modeler Mail - Letters to the Editor
8
New Products Checklist
46
Classified Advertising
98
Quality Hobby Shops
98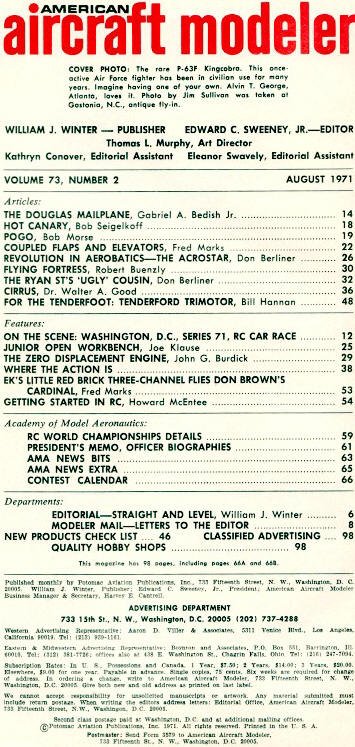 WILLIAM J. WINTER - PUBLISHER
EDWARD C. SWEENEY, JR. - EDITOR
Kathryn Conover, Editorial Assistant Eleanor Swavely, Editorial Assistant
Posted February 20, 2011

Academy of Model
Aeronautics

Tower Hobbies