Kirt Blattenberger
Carpe Diem!
(Seize the Day!)

Even during the busiest times of my life I have endeavored to maintain some form of model building activity. This site has been created to help me chronicle my journey through a lifelong involvement in model aviation, which all began in Mayo, MD ...

Webmaster:
Kirt Blattenberger
BSEE - KB3UON
Family Websites:
RF Cafe | Equine Kingdom

All trademarks, copyrights, patents, and other rights of ownership to images and text used on the Airplanes and Rockets website are hereby acknowledged.
December 1969 American Aircraft Modeler

Table of Contents

December 1969
Vol. 69, No. 6

Cover Photo: The chimp never will learn to fly inverted but is a good competitor in Carrier, says Jerry Farr who took the cover shot - and wrote the Demon Delta article. Can see it now - the chimp winning the National Championship!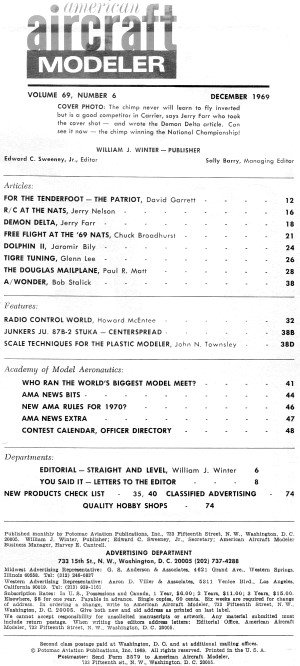 Posted February 26, 2012

Academy of Model
Aeronautics

Tower Hobbies