Kirt Blattenberger
Carpe Diem!
(Seize the Day!)

Even during the busiest times of my life I have endeavored to maintain some form of model building activity. This site has been created to help me chronicle my journey through a lifelong involvement in model aviation, which all began in Mayo, MD ...

Webmaster:
Kirt Blattenberger
BSEE - KB3UON
Family Websites:
RF Cafe | Equine Kingdom

All trademarks, copyrights, patents, and other rights of ownership to images and text used on the Airplanes and Rockets website are hereby acknowledged.
October 1967 American Modeler

Table of Contents

October 1967
Vol. 65, No. 4
The Cover: For 40 years the Curtiss P-6E Hawk has been a favorite with scale modelers. Bjorn Karlstrom's three-view shows it In exciting, true colors.
| | |
| --- | --- |
| Editorial-Straight and Level | 4 |
| A.M. Reviewsby Stanley M. Ulanoff | 6 |
| Model World on the International Scene | 8 |
| Fifth RC World Champs by Howard McEntee | 10 |
| Noviby David Gierke | 12 |
| Rx for R.O.W. - Part II, by George Wilson | 14 |
| Experimental Canard by Robert Kendall | 16 |
| Easy "B"by Bud Tenny | 18 |
| Club Chatterby Rosalie Vanzant | 21 |
| Sophisticated Schoolgirl, by Ken Willard | 22 |
| Getting Started in RCby Howard McEntee | 24 |
| Grid Leaks-Radio Control World, by Howard McEntee | 26 |
| Fairchild KR·21, by Bjom Karlstrom | 29 |
| Miniature Air Museum, by John N. Townsley | 30 |
| Sketchbook, by H. A. Thomas | 39 |
| Model Rocketeer | 42 |
| Count Down, by G. Harry Stine | 43 |
| Check List-New Products | 44 |
| MODEL AVIATION | |
| N.Y. Assoc. of Model Clubs Flying Site Effort | 31 |
| AMA's Executive Council, President's Corner | 34 |
| C/L Half-A Proto Speed Event | 36 |
| AMA Officer Directory, Contest Calendar | 38 |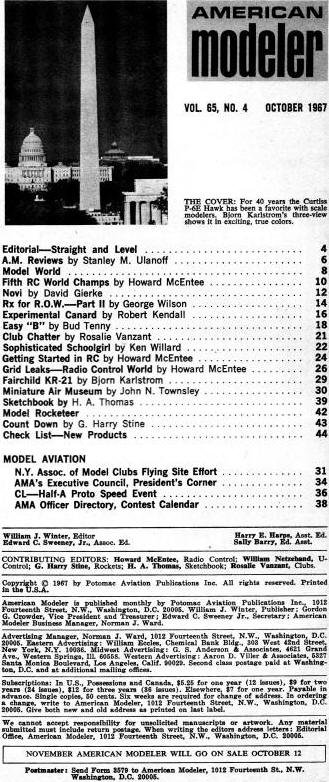 William J. Winter, Editor
Edward C. Sweeney, Jr., Assoc. Ed.
Harry E. Harps, Asst. Ed.
Sally Barry, Ed. Production
Posted February 5, 2011