Airplanes & Rockets

Carpe Diem!

(Seize the Day!)

Even during the busiest times of my life I have endeavored to maintain some form of model building activity. This site has been created to help me chronicle my journey through a lifelong involvement in model aviation, which all began in Mayo, MD ...

Webmaster:

BSEE - KB3UON

Family Websites:RF Cafe | Equine Kingdom

All trademarks, copyrights, patents, and other rights of ownership to images and text used on the Airplanes and Rockets website are hereby acknowledged.

October 1972 American Aircraft Modeler

Table of Contents
If I'm not mistaken, this is the very first edition of American Aircraft modeler that I ever received, after joining the Academy of Model Aeronautics. My AMA number is 92498.
October 1972
Vol. 75, No. 4
Cover Photo: Monty Groves' photo of his 40-powered replica of the first Lockheed airplane. At the time of the original's design, the company was known as Loughead Aircraft. It is an unusual biplane and an excellent flyer. See pages 40 through 47 for the story.
Bo Weevil, by Don Chancey with Dick Mathis
21

GRASPING THE INFINITE,Charles and Mike Fitzpatrick

24
BRONCO,Jim LaBarge
27
SUPREME, PART II,John Gard
33
Loughead Sport Biplane Model S-1,

Loughead Sport Biplane Model S-1 History, by Monty and Patricia Groves

40
QUASI MODO,John Burdick
48
My

lar

, by Bill Hunter
Charybdis, by H.D.M. Sherred, Jr.
55
GETTING STARTED IN RC,Jim McNerney
12
ON THE SCENE: TEXACO OLD TIMER MEET,Dick Mathis
16
ON THE SCENE: THE TAFT BASH,Robert Angel
37
EDUCATION IN AEROMODELING
105
PRESIDENT'S MEMO
107
AMA NEWS BITS
108
NATIONAL RECORD REVIEWS
110
AMA NEWS LETTER
111
CONTEST CALENDAR
112
Boomer McBr

agg

, by Bob Godden
113
MODELER MAIL - LETTERS TO THE EDITOR
10
NEW PRODUCTS CHECKLIST
14
INDEX TO ADVERTISERS
102
QUALITY SHOPS/CLASSIFIED ADVERTISING
113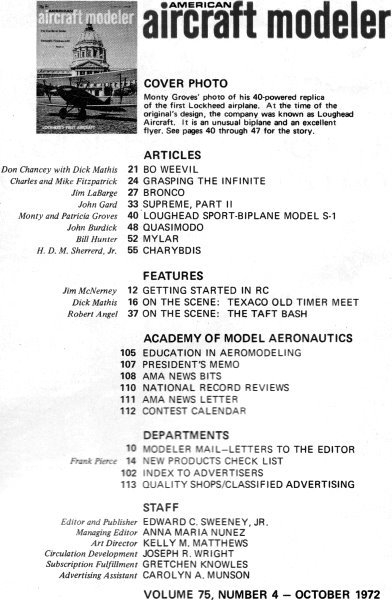 Posted October 1, 2011