Kirt Blattenberger
Carpe Diem!
(Seize the Day!)

Even during the busiest times of my life I have endeavored to maintain some form of model building activity. This site has been created to help me chronicle my journey through a lifelong involvement in model aviation, which all began in Mayo, MD ...

Webmaster:
Kirt Blattenberger
BSEE - KB3UON
Family Websites:
RF Cafe | Equine Kingdom

All trademarks, copyrights, patents, and other rights of ownership to images and text used on the Airplanes and Rockets website are hereby acknowledged.
September 1970 American Aircraft Modeler

Table of Contents
September 1970
Volume 71, Number 3
Cover Photo
Dr. Lyle F. Pepino's fabulous 1/6th size RC Fokker Triplane caught at moment of landing at Greensboro, N. C., contest. Created from Profile No. 59 and British Air Ministry photos and drawings. Photo by Ed Sweeney.
| | |
| --- | --- |
| For the Tenderfoot - Flying Sorcerer, by Jack Headley | 17 |
| Air Force Museum,William Groman, Jr. | 18 |
| Cloud "9,"Roger Gregory | 23 |
| Hawker Typhoon, by Dennis Adamisin | 27 |
| Antoinette, by Vernon Zundel, Al Signorino | 36 |
| Great Lakes Trainer, by Don Berliner | 44 |
| Mini Cat,Bud Atkinson | 51 |
| On the Scene: The George Aldrich Workshop,Ron Irving | 14 |
| New Products: Toledo,Howard McEntee; Photos, Bill Coons | 24 |
| Getting Started in RC,Howard McEntee | 28 |
| Pro-Line Competition Six,Fred Marks | 29 |
| Where the Action Is | 30 |
| Scale Techniques for the Plastic Modeler,Ben Millspaugh | 41 |
| First AMA Scholarships Announced | 53 |
| National Record Reviews | 54 |
| CIAM Bureau Report | 56 |
| AMA News Bits | 57 |
| AMA News Extra | 59 |
| Contest Calendar | 60 |
| Editorial - Straight and Level, William J. Winter | 6 |
| You Said It - Letters to the Editor | 10 |
| New Products Checklist | 42 |
| Classified Advertising | 90 |
| Quality Hobby Shops | 90 |
| Hobby People | 13 |
| Heathkit | 63 |
| Sterling Models | 65 |
| Royal Products | 73 |
William J. Winter - Publisher
Kathryn Conover, Editorial Assistant
Edward C. Sweeny, Jr. - Editor
Eleanor Swavely, Editorial Assistant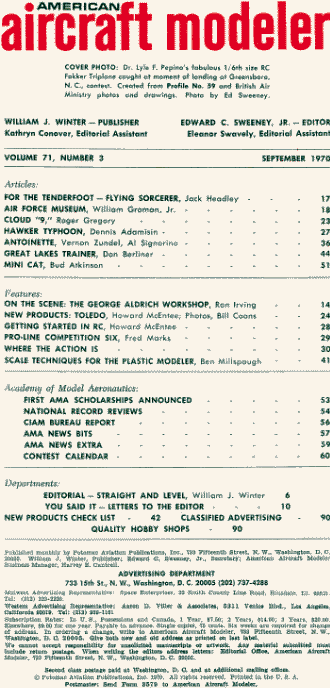 Posted January 17, 2013