Here is nifty weekend project that can be accomplished by any modeler capable of building an airplane from plans. In fact, it's even simpler because you don't have to worry about weight, perfect airframe alignment and rigging, and a can or two of Rustoleum spray primer and paint make for easy finishing. The assembly drawing recommends that you "punch or paint holes to simulate exhausts," but I strongly advise against punching holes in the mailbox because #1: it is illegal to alter the mailbox since it is officially the property of the U.S. Post Office, and #2: your mail might get wet. Definitely paint the holes.
Thanks to Bob Balsie for scanning the pages.
Antique Airplane Mail Box
Home Workshop Project: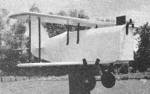 Rural air-fans who would like to publicize their interest in matters aeronautical could do no better than to give an ancient airplane touch to their RFD mail boxes. A "working" mail box in daily use should be no fancier than the one shown in the photo above. However, for those who would like to decorate the front lawn or porch railing with an antique airplane M.B. and one that is not used by the mailman, then we suggest an all-out treatment as illustrated in the cutaway drawing. Here such embellishments as a spinner (what! on an old DH?), real or simulated exhaust holes and louvers can be added. This design was submitted by William R. Kupsa of Chelsea, Iowa, who has developed a series of restyled mailboxes. Whether his activities are completely supported by the Postmaster General, we'd hesitate to inquire!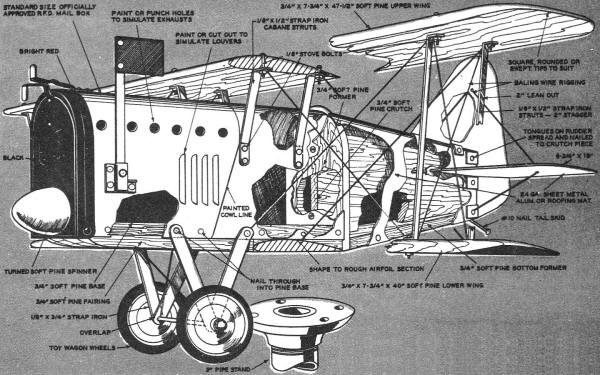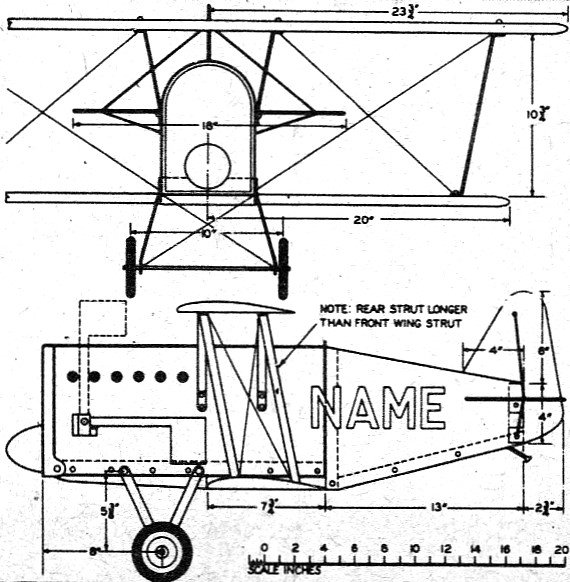 Posted April 5, 2016