The
Thermal-G R/C Club
held its annual summer fly-in on August 15, 2010, at the Erie Tech Center. The day was sunny, a little too warm for me, and quite windy. Here are a few pictures I took of the flight line. Also present were member of the Bean Hill Flyers control line club.
If you had done a Google or Bing search on hobby shops or flying fields in and near the Erie, PA, area a few years ago, you wouldn't have found much. If you were lucky, you'd have found a reference to the Thermal-G radio control club, but that's about it. Now if you do the same search, you have a good chance of finding this page.
Melanie and I moved here in May of 2008, and since then I have made an attempt to identify where the hobby shops are located, and where the various model flying groups meet. It has not been easy. It's almost as if nobody wants you to know where they hide out, but that's not the case - it's just that no one has bothered to promote the venues on the Internet. So, this web page is an effort to fix that.
BTW, I posted an article from 1962 about Erie's newspaper running a piece on the Keystone Klippers' need for a flying site.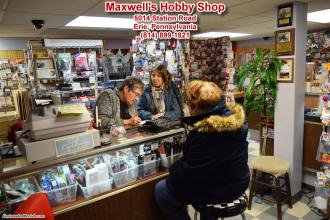 Maxwell's Hobby Shop
5014 Station Road
Erie, PA 16510
(814) 899-1821
Maxwell's Hobby Shop is owned and run by Joe Maxwell (a very nice guy). The 600 sq. ft. shop is stuffed to the gills with kits and equipment for all types of aeromodelling, including free flight, control line, and radio control. There are some supplies for boats and cars as well.
See my write-up on Maxwell's Hobby Shop, complete with lots of photos. You can also see the Jeep that Joe Maxwell is restoring.
Directions to Hobby Shop:
Take exit 32 off of I-90 heading north on the Bayfront Connector (Rt. 430). Keep in the right-hand lane while going about 0.6 mile. Make a right onto Station Road, at the traffic light in front of the Penn State Erie (Behrend) complex. Go about 500 feet, and on the right, just past Colt Road, you will see a mailbox with "Maxwell" on it. The hobby shop is in the building just beyond the house.
Click here for a Google Map to Maxwell's Hobby Shop.
---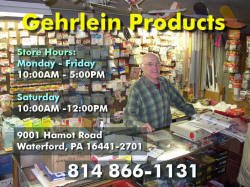 Gehrlein's Hobby Shop
9001 Hamot Road
Waterford, PA 16441 (this is just outside of Erie)
Gehrlein's Hobby Shop is owned and run by the Gehrlein family. The shop, situated in a room above the workshop where they repair and modify full-scale sailplanes, is full of modern kits and equipment for all types of aeromodeling, including free flight, control line, and radio control. There are some supplies for boats and cars as well.
Directions to Hobby Shop:
If you know how to get to the Thermal-G flying field, then you know how to get to Gehrlein. If you don't know how to get there, follow the instructions below for the Thermal-G field. Then, instead of turning left at the gate (assuming you're heading south), go about another 300-400 feet and you'll see a big building on the left. That's it. The door is on the back relative to the road. If you are lucky when you visit, there will be a full-size sailplane in the shop being worked on.
Click here for a Google Map to Gehrlein's Hobby Shop.
---
Contact: Cliff Bendig (President)
Field Location: Gehrlein Gliderport
Hamot Road
Waterford (Erie), PA
3-D, Control Line, Electric, Fixed Wing, Free Flight, Fuel/Gas, Helicopters, Park Flyers, Pattern, Pylon Racing, Radio Control
Directions to Flying Field:
From I-90, take exit 24 south onto Peach Street (Rt. 19), then go a few hundred feet and take the first right onto Oliver Road. At about a mile, you will see the Five Points intersection, with Erie Tech Center complex ahead on the right. Turn left (south) onto Hamot Road. Continue past the couple housing complexes and then after a mile, keep watch to the left, where you'll see a sign next to a cleverly hidden gravel road. If you get to the driveway for the glider port hangars, you've gone too far. Turn around, go back 200 feet and make a right onto the dirt road. The parking lot for the field is separated from the flying area by about 500 feet. Note: There are now gates across the access road, so if they are closed, that means nobody is flying.
Note also that the good people at Gehrlein Products who allow the club to fly there also run a hobby shop on the site.
Click here for a Google Map to the Thermal-G R/C Club flying field.
---
Erie Model Aircraft Association (disbanded)
Free Flight
AMA Chartered Club #545
---
McDowell Flyers (photos & video)
Indoor Micro R/C
Contact: John Schardt
814-868-1580
Directions to McDowell Intermediate High School Gymnasium:
From I-90, take the 26th Street (Rt. 20) exit heading west. Go about 1 mile and turn right onto Caughey Road. McDowell Middle School is on the right after about a half mile. Turn in and go to the gymnasium entrance.
Click here for a Google Map to the McDowell Flyers flying gymnasium.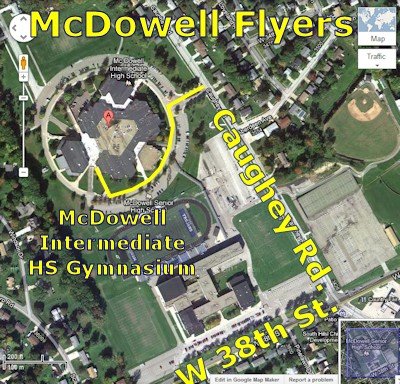 ---
Bean Hill Flyers (photos & video)
Control Line
Rt. 6N, just east of Albion, PA
Contact: Joe Daniels
Phone: 814-881-1895
Click here for a Google Map to the Bean Hill Flyers flying field.
---
Jamestown, NY 14701
(716) 484-1780
Note: This article was written when CW Action Hobbies was located at 509 West 3rd Street. I will try to update the photos within the next couple months.
Toll Free (800) 737-1180
Hours: Mon-Thur 9:30 - 6 pm
Friday 9:30 - 8 pm
Saturday 9:30 - 4 pm
Sunday Closed
Wow, what a great hobby shop! Admittedly, I don't get around too much, but this ranks in the top two or three best hobby shops I have ever had the pleasure of visiting. You walk through the front door of Action Hobbies and see shelves and walls full of hobby and craft supplies, but then you walk up the stairs and are greeted with an unbelievable amount of aircraft and rocketry modeling gear. It would be hard to stuff any more stuff into the available space. Action Hobbies also does a big online business, so they probably have a lot more inventory through there. The prices are absolutely on par with what you would pay from an online seller, so that really works in their favor. Unfortunately, they have to charge New York state sales tax to in-state purchasers (online or walk-in), so the mail order deals save a little if shipping is free (which Action Hobbies offers on order over $100).