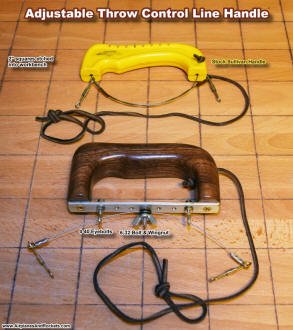 When building my Enterprise-E control stunt airplane, I knew that the amount of control surface throw available for both flaps and elevator was extreme, but I wanted to have the reserve capability in case it was needed. It was definitely NOT needed! Fortunately, because of the way the top fuselage hatch is designed for removal there is easy access to the flap control horn, and thereby the ability to move pushrod clevises around to decrease throws. Even with doing that, however, the model is still very sensitive to control handle movements. My only solution was to obtain a control handle with line spacing less than the 4-1/4" on the stock Sullivan handle. That spacing has been a little too much for other models as well, so an alternate handle would be nice anyway.
I have always admired the custom wooden control line handles built by other modelers, so it seemed like the logical thing to do for myself. Fortunately, my daughter's step father-in-law, Glenn Samuels, owns and operates GPS Hardwoods, in Kernersville, North Carolina. He graciously provided me with a couple end pieces off 1-1/8" thick planed walnut boards, so along with a couple other small projects, I used it for this custom adjustable throw control line handle. If you are a woodworker and need very high quality walnut, cherry, or sycamore furniture-grade material, please contact Glenn.
Dimensions were determined from the size of my hand and shape of my grip. Overall height worked out to about that of the Sullivan control handle. Finished thickness is around 1" at the back of the handle, and then I filed and sanded the interior to conform comfortably to my fingers. A piece of 3/32" thick by 7/16" wide aluminum bar is drilled in pairs of holes spaced 2-7/8", 1-7/8", and 7/8" apart (nothing special about the spacing, BTW). The inner holes will probably never be needed, but they help make the handle lighter (just kidding). Other hole spacings can easily be accommodated simply by replacing the entire aluminum bar with another. Eye bolts with 4-40 threads, washers, and locking nuts are installed to provide the elevator throw setting. Line length equalization is accomplished with a 6-32 bolt, a couple washers, and wingnut. The finish is four sprayed coats of Minwax semi-gloss polyurethane, with light sanding between coats. Brass wood screws hold the aluminum bar to the wooden handle. The safety thong is a leather shoelace.
Posted January 9, 2016