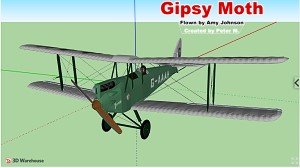 Here are plans for the De Havilland DH60G Gipsy Moth that I electronically scanned from my purchased copy of the May 1969 American Aircraft Modeler magazine. Because they span two or more pages, I had to adjust the size and alignment a bit to get halves to line up properly. You might be able to scale up the image below. Plans for this fine model were drawn by Mr. Björn Karlström. All copyrights (if any) are hereby acknowledged.
"The de Havilland DH 60 Moth was a 1920s British two-seat touring and training aircraft that was developed into a series of aircraft by the de Havilland Aircraft Company." - Wikipedia
November 1, 2020 Update: Mr. Peter M. wrote a couple weeks ago requesting a high resolution version of this 4−view line drawing of the De Havilland DH60G Gipsy Moth in order to assist his in creating a 3D computer model of it on the 3D Warehouse website. As you can see from the screen capture above, he did an amazing job! Click on the image to view the live 3D model that can be rotated and zoomed. Peter's model replicates the airplane flown by Amy Johnson on her historic 11,000-mile solo flight in 1930 from solo from London England to Darwin Australia. Many thanks to Peter for making this available.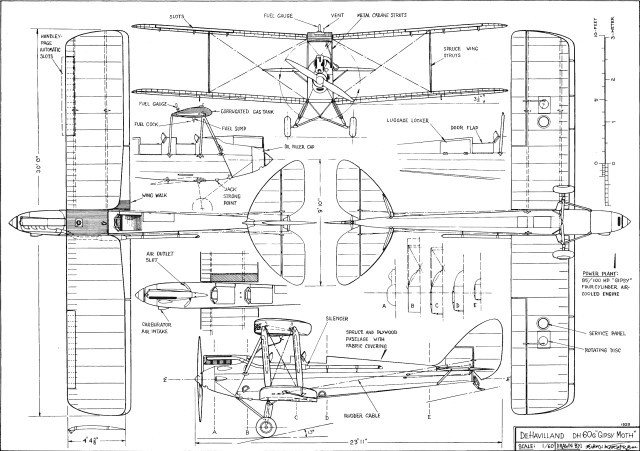 <click for larger version>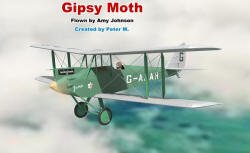 This 3D model was also created by Mr. Peter M. "It took a month and a half, starting on the 14 September. Though I have only been working 2 or 3 hours on weekdays. The software I use is called 3DS Max then I exported it to Sketchup for the 3d Warehouse".
Notice:
The AMA Plans Service offers a full-size version of many of the plans show here at a very reasonable cost. They will scale the plans any size for you. It is always best to buy printed plans because my scanner versions often have distortions that can cause parts to fit poorly. Purchasing plans also help to support the operation of the Academy of Model Aeronautics - the #1 advocate for model aviation throughout the world. If the AMA no longer has this plan on file, I will be glad to send you my higher resolution version.
Björn Karlström Drawings:
November 1, 2020