Model Aviation Comics of Yore - page 8
Comics from 1950s through Mid 1970s Vintage Model Aviation Magazines
The first comic on this page appeared in the January / February 1963 combined issue of American Modeler. The bottom on is from the June 1960 issue of the British model aviation magazine Aero Modeller. I am scanning new model aviation comics as they become available - and as time permits. If you have editions of any of these old magazines and would either scan the comics and e-mails them to me, or perhaps send me the magazine (I'll pay shipping), I'll be glad to post them.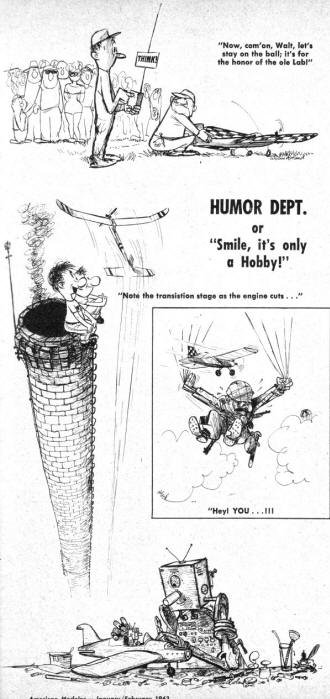 Posted March 24, 2018
Vintage Model Aircraft Comics:
Posted March 19, 2016

Kirt Blattenberger
Carpe Diem!
(Seize the Day!)

Even during the busiest times of my life I have endeavored to maintain some form of model building activity. This site has been created to help me chronicle my journey through a lifelong involvement in model aviation, which all began in Mayo, MD ...

Webmaster:
Kirt Blattenberger
BSEE - KB3UON
Family Websites:
RF Cafe | Equine Kingdom

All trademarks, copyrights, patents, and other rights of ownership to images and text used on the Airplanes and Rockets website are hereby acknowledged.


Academy of Model
Aeronautics

Tower Hobbies