Airplanes & Rockets

Carpe Diem!

(Seize the Day!)

Even during the busiest times of my life I have endeavored to maintain some form of model building activity. This site has been created to help me chronicle my journey through a lifelong involvement in model aviation, which all began in Mayo, MD ...

Webmaster:

BSEE - KB3UON

Family Websites:RF Cafe | Equine Kingdom

All trademarks, copyrights, patents, and other rights of ownership to images and text used on the Airplanes and Rockets website are hereby acknowledged.

Model Aviation Comics of Yore - page 8
Comics from 1950s through Mid 1970s Vintage Model Aviation Magazines
The first comic on this page appeared in the January / February 1963 combined issue of American Modeler. The bottom on is from the June 1960 issue of the British model aviation magazine Aero Modeller. I am scanning new model aviation comics as they become available - and as time permits. If you have editions of any of these old magazines and would either scan the comics and e-mails them to me, or perhaps send me the magazine (I'll pay shipping), I'll be glad to post them.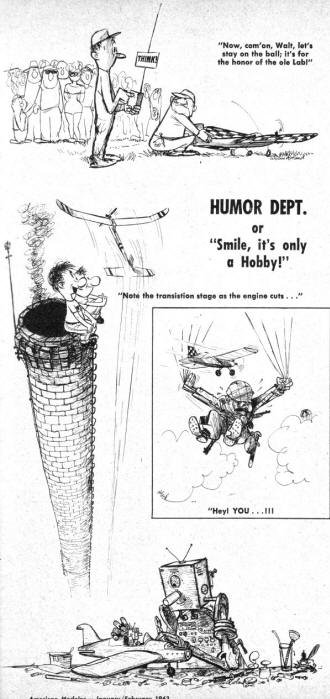 Posted March 24, 2018
Vintage Model Aircraft Comics:
Posted March 19, 2016