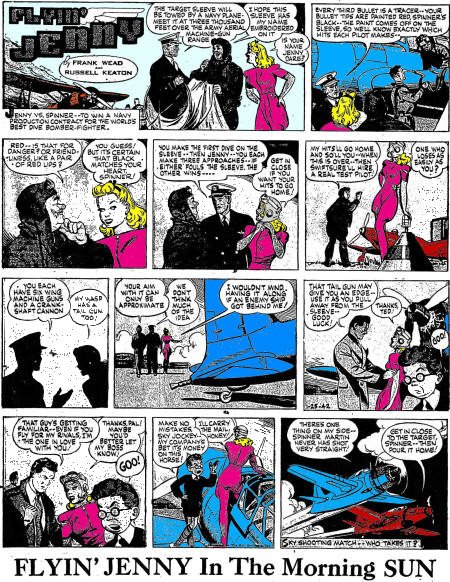 This is the January 25, 1942, "Flyin' Jenny" comic strip. The Baltimore Sun newspaper, published not far from where I grew up near Annapolis, Maryland, carried "Flyin' Jenny" from the late 1930s until the strip ended in the mid 1940s, so I saved a couple dozen from there. The first one I downloaded has a publication date of December 7, 1941 - that date "which will live in infamy," per President Roosevelt. Many Americans were receiving word over the radio of the Japanese attack on Pearl Harbor while reading this comic at the breakfast table. I expect that soon there will be World War II themes.
"Flyin' Jenny," whose real name was Virginia Dare (what's in a name?), was a test pilot for Starcraft Aviation Factory who divided her time between wringing out new airplane designs and chasing bad guys. She was the creation of artist and storyteller Russell Keaton. All I have are the Sunday editions, but it was a daily strip as well.
From the time of the Wright Brothers' successful flights at Kill Devil Hill, Americans have been in love with aviation. In the early days, access to flight was limited to those with know-how and access to the special tools and materials needed to build your own plane - or those who received training in the military. By the 1930s, commercially produced private airplanes became affordable to many "regular" people. As the skies filled with airplanes and more people were flying on commercial airliners, attending air shows, and learning to fly themselves, some of the mystique wore off, but the public still loved a good aviation story. Magazines like The Saturday Evening Post, Boys' Life, and Flying Aces carried both true and fictional stories of air adventures. Newspaper and comic books published many aviation-related series like Smilin' Jack, Captain Flight, Air Boy, Flyin' Jenny, Sky Blazers, Tailspin Tommy, and many others were regulars on the news stand.
Since I have a paid subscription to Newspapers.com, I decided to search for a sampling of some of those comics strips.
---
Vintage Flyin' Jenny Comic Strips:
- Flyin' Jenny - January 30, 1944 The Baltimore Morning Sun
- Flyin' Jenny - January 23, 1944, The Baltimore Morning Sun
- Flyin' Jenny, - January 16, 1944, The Baltimore Morning Sun
- Flyin' Jenny, - January 2, 1944, The Baltimore Morning Sun
- Flyin' Jenny - February 8, 1942, The Baltimore Morning Sun
- Flyin' Jenny, - January 25, 1942, The Baltimore Morning Sun
- Flyin' Jenny - January 18, 1942, The Baltimore Morning Sun
- Flyin' Jenny - January 11, 1942, The Baltimore Morning Sun
- Flyin' Jenny - January 4, 1942, The Baltimore Morning Sun
- Flyin' Jenny - December 28, 1941, The Baltimore Morning Sun
- Flyin' Jenny - December 21, 1941, The Baltimore Morning Sun
- Flyin' Jenny - December 14, 1941, The Baltimore Morning Sun
- Flyin' Jenny - December 7, 1941, The Baltimore Morning Sun
- Flyin' Jenny - November 2, 1941, The Baltimore Morning Sun
- Flyin' Jenny - October 10, 1939, The Baltimore Morning Sun
- The Amelia Earhart Story - January 4, 1942, The Baltimore Morning Sun
Posted May 19, 2018