The February 1942 issue of Flying Aces magazine contained a quadruplet of 3-view scale drawings of early airplanes: The German Fokker D.V Albatros fighter biplane, the American Army Air Force's Douglas O-31A observation monoplane, the Ryan Navy Seaplane, and Russian I-16 Mosca fighter low wing monoplane. Per Wikipedia, "The Douglas O-31 was the Douglas Aircraft Company's first monoplane observation straight-wing aircraft used by the United States Army Air Corps. Anxious to retain its position as chief supplier of observation aircraft to the USAAC, Douglas developed a proposal for a high-wing monoplane successor to the O-2. A contract was signed on January 7, 1930 for two XO-31 prototype aircraft, the first of them being flown in December of the same year. A fabric-covered gull-wing monoplane, the XO-31 had a slim corrugated dural-wrapped fuselage, carrying a tandem arrangement of open cockpits for the pilot and observer. It had one 675 hp Curtiss GIV-1570-FM Conqueror V-12 engine and fixed landing gear with provision for large wheel fairings."
Douglas O-31A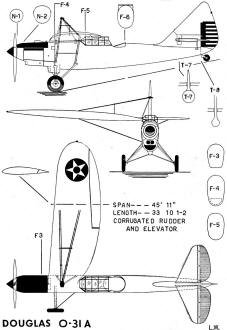 Former Army Air Corps Douglas Observation
Span = 45' 11"
Length = 33' 10-1/2"
Corrugated Rudder and Elevator
Posted October 28, 2019