This Russian Mosca I-16 fighter airplane bears some resemblance the Bee Gee series of American racers. According to the Wikipedia entry, "The Polikarpov I−16 was a Soviet single-engine single-seat fighter aircraft of revolutionary design; it was the world's first low-wing cantilever monoplane fighter with retractable landing gear to attain operational status and as such 'introduced a new vogue in fighter design.' The I-16 was introduced in the mid-1930s and formed the backbone of the Soviet Air Force at the beginning of World War II. The diminutive fighter, nicknamed 'Ishak' or 'Ishachok' ('Donkey' or 'Burro') by Soviet pilots, figured prominently in the Second Sino-Japanese War, the Battle of Khalkhin Gol and the Spanish Civil War - where it was called the Rata ('Rat') or Mosca ('Fly')." Its maiden flight occurred on 30 December, 1933. Amazingly, 10,292 were built between 1934 and 1942.
The February 1942 issue of Flying Aces magazine contained a triplet of 3-view scale drawings of early airplanes: The German Fokker D.V Albatros fighter biplane, the American Army Air Force's Douglas O-31A observation monoplane, the Ryan Navy Seaplane, and Russian I-16 Mosca fighter low wing monoplane.
Mosca I-16 Fighter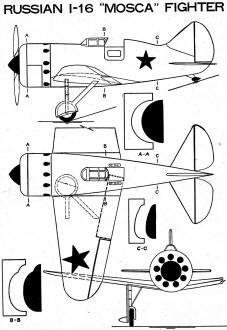 This bee-shaped little fighter first came to the attention of the aviation world during the Russo-Finnish war early in 1940 when observers watched it in action against other foreign planes placed at the disposal of the Finns.
Against the Dutch Pursuit Fokker D-21, British Spitfires and fast Blenheim bombers, the highly maneuverable "Mosca" fought off, outflew, and accounted for many enemy planes. It was equipped to operate either with skis or landing gear which retracted flush into the wings.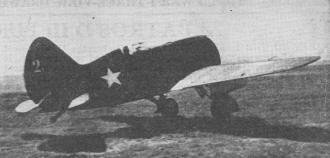 This winter will undoubtedly see these ships again fitted with skis. The I-16 is powered with a Russian-built "Cyclone" of 700 h.p, and is armed with four to six machine guns of .30 and .50 caliber. Construction is mostly plywood and fabric.
Although Model I-16 is several years old (having first seen air action against German and Italian planes in the Spanish Civil War) details of its construction and specifications have always been withheld. However, it is known that Russia has more of this type (mostly improved and faster versions) than any other kind and its top speed is somewhere around 300 m.p.h.
The latest I-16's are also used as dive bombers, carrying their loads in streamline containers underneath the wings as shown in above photo.
Posted September 7, 2019