I have received many requests for the scanned plans file for the Comet Sparky free flight model. Along with the plans, I provide three files that contain the printwood patterns. Printwood patterns, for those of you unfamiliar with the term, are the ink pattern that were printed directly onto the balsa so that the model builder could cut the pieces out. This was the el cheapo way of producing a kit where the expense of die cutting was not incurred by the manufacturer. Truth be told, the die cutting was usually so lousy that you were better off cutting the parts yourself. Well, it would be if companies like Comet didn't make a habit of using balsa with about the same density and hardness as oak. Cutting 1/16" square longerons in fuselage bulkheads or wing spar notches in wing ribs was a real challenge - especially if you were a kid whose only form of razor sharp tool was a used blade from your father's razor. By the way, the printwood patterns are necessary because most plans from kits do not include templates for all of the sheet balsa parts. That is as true today as it was 50 years ago...
If you think you can imagine, without having ever done so, what it would be like to be in the cockpit of a fighter plane battling with an adversary for dear life, you are fooling yourself. The same goes for going tanque to tanque or mano a mano on the battlefield with opposing forces. The complex, synergistic combination of fear, adrenalin, honor, patriotism, self-preservation, revenge, egotism, hatred, rage, camaraderie, esprit de corps, and other emotions can only be experienced in−person, and nobody knows for certain how he will react to the circumstance - especially for the first time. Intense training can help prepare you, but you just don't know until you're there. Although nowhere as consequential, look at how people freeze with stage fright when facing a large audience in a big venue for the first time. Aerial combat fighters, aka dog fighters or pursuit fighters (which is where the "P" comes from in P-51, P-40, etc.), are the cream of the crop of airmen, going back to the first air-to-air conflicts of World War I. Yes, ground fighting requires courage and wit, but adding that third dimension to the equation does not add merely another 50% to the mix; it multiplies that difficulty by a much larger factor...
Airplanes and Rockets website visitor Peter C., of the UK, contacted me about scanning information from a vintage copy of American Aircraft Modeler magazine. Peter requested the 3-view drawing of the Pfalz D.III biplane (by Mr. Björn Karlström) that appeared in the July 1973 edition. I did him one better by also scanning and OCRing the text of the accompanying article as well. Author Patricia Groves did a very thorough job of researching the history of the Pfalz D.III biplane, and included some rarely seen photos of the various versions. Enjoy...
Airplanes and Rockets website visitor Ray L. wrote to say he has a Biceps control line model that appeared in the April 1969 edition of American Aircraft Modeler magazine, and that he would like to have the article posted. Per Roy, "I bought this model from one of our club members who is a team race flier and built it on a whim, he fitted it with electric and had it test flown by one of our aerobatic pilots and after that he lost interest it and I was happy to give it a good home, the quality of build and finish is to pro standards." Power in the original was a Fox .59, wingspan is 48". AMA Plans Service still prints the Biceps plans.
We have truly fallen as a great country. This weekend, a U.S. Air Force F-35 stealth jet went missing in South Carolina after its pilot ejected. Officials claim it just disappeared. A call went out to the public for assistance in finding it. Yes, you read that right. As with many stories like this on, the reader comments are the best part. Examples include "It's stealth so you'll never find it," Look for it in Iran parked next to the supersecret drone we let them commandeer in 2011," "It's now flying over Ukraine," "Parked in Joe's garage next to his 1967 Corvette," "The Mexican aliens snatched it," "It now identifies as a bird and just flew away," "The official list of Jeffery Epstein Pedo Island clients was aboard - you'll never find it." Fortunately, the pilot got out safely, but bailing and saving your own hide out while your aircraft is left to go its own way and potentially wreak massive damage and death to unwitting targets on the ground seems undistingushed.
"The Andromeda Strain" movie came out in 1971, just two years after Michael Crichton's book of the same name was published. The plot centered around a military satellite which had returned to earth harboring a deadly microorganism that killed the entire town of people where it landed. 1969, the year of the book, coincided with when the first humans, via Apollo 11, were exposed to the environment of another heavenly body - the moon. "The Andromeda Strain" owed its public intrigue to decades of stories telling of and wondering about what kinds of deadly living and nonliving entities might permeate outer space and potentially cause a plague which might end life on Earth. Although NASA had, by July of 1969, a lot of experience with vehicles and humans going into space and returning with detectable traces of harmful organisms or chemicals, it had never dealt with anything that had been exposed to the surface of another solid body (the moon). Any type of biomass that might have accompanied a meteorite would have been rendered lifeless as its host projectile burned during passage through Earth's atmosphere. Apollo 11 astronauts might bring with them entities protected by the same life-preserving capsule that would keep them alive during their trip home...
Website visitor Kenneth E. wrote to say that he is working to build a complete collection of the "For the Tenderfoot" models that were published in American Aircraft Modeler magazine. The Tenderfoot series was an attempt to provide motivation to young newcomers to the hobby. They were a mix of free flight rubber, gliders, and 1/4A & 1/2A control line designs that built simply and cheaply. Kenneth requested reprints of the following three models: Saucerer, Ray Malmström: C/L 1/2A, January 1970 Bonanza and Mustang, David Thornburg: FF HLG, January 1971 Clodhopper, Paul Denson: FF Rubber February 1973...
If you do a Google search on Silkspan and dope covering methods, a lot of good written instructions can be found. In fact, I suggest you read one or two of them if you have never done a Silkspan and dope covering job before, or if it has been a while and you want a refresher course, or if you have tried and never been able to get an acceptable result. There is no special skill required to obtain a really nice looking Silkspan and dope finish, there are a couple "gotcha" scenarios that can ruin an otherwise simple process. I believe the two worst mistakes you can make are painting dope in air that is too humid, and using a thinner that is not entirely compatible with the dope (nitrate or butyrate). I decided it might be a good idea to make a video of how I have been successfully achieving decent Silkspan and dope finishes for lo these 40 or more years. My finishes have never won any prizes, but the tissue (Silkspan) has always been nice and taught and the brushed dope has gone on evenly, with nice, sharp trim lines. The subject of this tutorial / demonstration is a Sopwith Camel biplane from a Manzano Laser Works kit. Since I had originally planned to build it for control line...
Incredibly, 22 years have passed since the extremist Islamic attack on American soil on the morning of September 11, 2001. Nearly 3,000 citizens died that day. World leaders have embarked on a path of colonizing our homelands with groups of people that are known to harbor sympathies for the terrorists.
They dwell among us now and mean to do us harm when opportunity presents itself - which it has on numerous occasions in the past many years. Never forget the people who died in the burning towers, the Pentagon, and the airplanes, and those left behind to grieve and get on with life. Never forget the police and military members who fought - and some died - to keep us safe and free. Never forget the rotten politicians who imperil our existence with their selfish agendas.
This propeller extension shaft featured in a 1941 issue of Flying Aces magazine is an example of a concept that seemed like a good idea on paper, but probably proved to be a disaster in practice. If you have ever had an R/C helicopter with an even slightly bent main rotor shaft, then you know how the situation causes vibrations whose severity varies with the amount of bending and the rotation rate of the shaft. Helicopter main rotors turn at a fairly low rate compared to an aircraft propeller, although the mass and diameter of the propeller is much less than a rotor. Even so, I imagine the vibration caused by even a slightly bent propeller shaft extension when the engine is running at peak RPM is very high - enough to cause the situation to quickly get worse. It is a runaway situation where the bend increases, causing worse vibration, which causes more bending, causing greater vibration, etc., etc., etc. An additional problem would be caused by the longer moment arm causing additional wear on the crankshaft bearings and/or bushings, particularly during abrupt change in the airplane's pitch angle. The proof that propeller extension shafts were not...
Model boat plans are more difficult to come by than model airplane plans, so seeing this article in the August 1954 issue of Air Trails magazine for a small, free-running hydroplane was a nice find. Its simple, inexpensive construction makes it a quick build for those rare modelers that still build their own models out of wood. The Skiddin' II can easily accommodate a modern miniature radio control system and a brushless motor setup. The original model was designed for a transom-mounted glow fuel outboard engine, but those things make model boat plans look plentiful. If you really want an outboard, try eBay, and be prepared to pay a couple hundred bucks for it...
In the late 1960s when I received a Cox Sky Copter free flight helicopter for Christmas, there was very little in the way of commercially available flying model helicopters. It was modeled after the Bell 47−G, which was later made famous by the M.A.S.H. television series. Victor Stanzel sold its tethered ElectroMic "Copter" that was powered by a pair of "D" cell batteries. As far as I know, Cox made the only nitro fuel powered free flight helicopter, named "Sky Copter." It was powered by a Cox .020 engine mounted to the top-center of the main rotor shaft, and caused the rotors to turn due to the counter torque cause by the propeller on the .020. It worked very well. After getting the engine started, you would give the rotors a spin in the clockwise direction (looking down from the top), and the gently push the model straight up. My guess is that most of the lift was provided by the engine's propeller pushing air down, and that the spinning rotors served primarily to stabilize the model during powered flight. Once the engine quit, the spinning rotors essentially went into a counter-rotation mode to gently bring the Sky Copter back to terra firma...
Early in 1982, fresh out of the USAF as an Air Traffic Control Radar Repairman, I was fortunate to land a job as an electronics technician at the Oceanic Division of Westinghouse in Annapolis, MD. It turned out being more of a high level electronics assembly job building printed circuit boards, chassis, wire harnesses, sonar transducers, and integrated systems, mostly for the U.S. Navy. A fairly extensive collection of high quality hand tools were required in order to get results which would pass rigorous Navy inspection standards. Snap-On was the supplier of choice because at the time they made extremely high quality (and expensive) small pliers, wire cutters, screwdrivers, wrenches, nuts drivers, etc. I don't know whether there are still roaming Snap-On tool trucks visiting businesses anymore, but at the time we got a weekly visit. Onboard was a tool refiguring workbench for sharpening cutters, repairing screwdriver tips, and other things. Restored components of the c1976 Craftsman 7−Drawer Machinist's Tool Chest. Craftsman 7−Drawer Machinist's Toolbox - top open. Cleaned and groomed felt surfaces...
Lightweight lithium ion polymer (Li-Poly) batteries have made a huge impact on the performance, and subsequently the acceptance of electric systems as a replacement for the traditional nitromethane (nitro) and gasoline power systems in model airplanes and helicopters. Their energy density (Wh/kg is the most common unit of measure), combined with the relatively new and extremely powerful brushless motors, electric power systems are rivaling the internal combustion systems in terms of both energy and duration. Development of both the brushless motors and the advanced battery technologies has been, both officially and unofficially, a joint venture between government and civilian research and development efforts. If you keep up with the news headlines for NASA, defense contractors, green energy researchers, and similar organizations, you have witnessed the plethora of new vehicles that have been built tested, and in may cased deployed in the field. These range from micro air vehicles that carry surveillance equipment for the military, to hybrid and fully electric passenger vehicles, vastly improved...
As with most aspects of every type of hobby, there is a plethora of different types of glow plugs available for your selection. The same goes for engines in which to use them. The quandary that haunts many modelers is which glow plug is the best for a certain engine, fuel, ambient temperature, altitude, etc. In the April 2012 edition of Model Aviation magazine, Bob Aberle addressed just that topic and provided a website for an extensive treatise on glow plug specifications and usages. In it James McCarty, Brian Cooper, and Brian Gardner list the major glow plug manufacturers and present voltages, heat ranges, applications, intended fuel nitro content, short versus long, idle bar, etc. Fifty years earlier, William Netzeband published an extensive article in the 1963 Annual Edition of American Modeler magazine that employs a very methodical and scientific approach that resulted in extensive graphs and tables that are still largely applicable to today's equipment...
"NASA's X-59 aircraft, capable of supersonic flight while reducing sonic booms to quieter 'thumps,' has been moved for testing in California. The collected data on human reactions to supersonic noise will potentially assist in enabling commercial supersonic flight over land. The following series of images shows NASA's X-59 as it sits on the flight line - the space between the hangar and the runway - at Lockheed Martin Skunk Works in Palmdale, CA, on June 19, 2023. The move from its construction site to the flight line is one of many milestones that prepare the X-59 for its first and subsequent flights. Next up, the team will conduct significant ground tests to ensure the aircraft is safe to fly. The X-59 aircraft - the centerpiece of NASA's Quesst mission - is designed to demonstrate the ability to fly supersonic, or faster than Mach 1, while reducing the loud sonic boom to a quiet sonic thump. NASA will then fly the X-59 over several communities to gather data on human responses to the sound generated during supersonic flight..."
Of course the allusion in this title, "'The Better to See With...' Plexiglas Machine Gun Turrets" is to "Little Red Riding Hood." Do you remember the scene in "It's a Wonderful Life" where Sam Wainright's new factory has a busy production line turning our Plexiglas canopies? "I have a big deal coming up that's going to make us all rich. George, you remember that night in Martini's bar when you told me you read someplace about making plastics out of soybeans?" George passed it up and Sam got rich. Plastics were rarely found in products prior to World War II. A shortage of metal, glass, and rubber (recall the surplus materials collections) gave birth to a thriving plastics industry that included aircraft canopies. Prior to that, you will note the flat glass window panes used in windshields and canopies built in segments using metal frames. The one photo of the line worker applying a coat of Simoniz to the Plexiglas canopy reminds me of the company's slogan "Motorists wise, Simoniz," which was made famous again in the original story version of "A Christmas Story," by Gene Shepherd, entitled "Duel in the Snow, or Red Ryder Nails the Cleveland Street Kid."
Those of us fortunate (or unfortunate, depending on your point of view) to have been in the model airplane realm back in the 1960s and 1970s (and earlier) are very familiar with Maxey Hester and his award-winning models. Mr. Hester designed many of the fine scale models sold (some still) by Sig Manufacturing of Montezuma, Iowa. In fact, if you don't know, Maxey later married Hazel Sigafoose after her first husband and company co-founder (Glen) died (during an aerobatic performance). This P−63 Kingcobra was designed for "multi" radio (what we refer today as 4 or 5 channels) and a K&B .45 engine. The wingspan is about 64".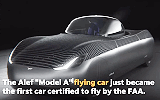 "A California-based company, Alef Aeronautics, is building a flying electric car that now has approval for testing. The company said the Federal Aviation Administration (FAA) has granted it certification to begin testing the car on the road and in the air, Fox Business reported Saturday. Although it remains in the experimental phase, the company is taking preorders, according to USA Today. The outlet also shared an image of the sleek, black vehicle called 'Model A'. The low-speed fully electric car can be driven up to 200 miles on roadways and also launch vertically into the air and boasts a flying range of 110 miles, the Fox report said..."
The AirplanesAnd
Rockets.com website exists entirely on the support of its visitors by way of a small percentage earned with your Amazon.com purchases, which typically works out to less than $10 per month. That barley covers the domain registration and secure server fees for AirplanesAndRockets.com. If you plan to buy items via Amazon.com, please click on this link to begin your shopping session from here so that I get credit for it. Doing so does not cost you anything extra. Thank you for your support.
Breaking News!!! - My electric-powered, control line DC−3 model completed its maiden flight on August 2, 2023. It flew beautifully! The lines kept nice and tight even with slight wind gusts. I was unsure whether the motors and propellers would provide sufficient thrust, but 4−cell LiPo battery, it will climb nearly straight up. In fact, though, the maiden flight only used a 3-cell LiPo and it flew fine. The propellers are counter-rotating jobs meant for a drone. They are the only 3−bladed props I could find that were small enough in diameter with wide blades and high pitch. Allegheny Airlines livery was chosen because of a photo I have of one sitting on the tarmac at Erie International Airport sometime in the 1970s. A video will be posted soon...
These 4-level wooden bleacher plans are the latest version. I was going to write up a hardware parts list, but never got around to it. Both sections of the bleachers shown in the photo (built in fall of 2011) are still in service and are in excellent condition. Pressure treated lumber was used for everything, and all the nuts, bolts, and washers are galvanized. Screws for the planks are outdoor deck grade. Pressure treated landscaping timbers are sitting on the ground between the soil and bleachers. My daughter sold the property a couple years ago, so I don't have access to it to take any other photos. My son-in-law and I built both sections of bleachers in one weekend. Since many of the parts are duplicates, we cut out and drilled the first of each type, then used them as templates for the rest. If you have half a dozen people available to cut and drill, that will speed the process considerably. We also built up the first seat/step frame, then built the others on top of it to assure all were identical (using screws temporarily so the bolts didn't get in the way). Get the first one as perfect as possible. Prior to erecting the entire assemblies, the ground area was leveled and the landscaping timbers laid into position. We used long deck screws to hold them together to prevent shifting during assembly. The completed bleachers will be as level as the foundation. Adjustments can be made, if needed, with shims cut from the pressure treated wood. Note that if the ground is wet/moist, the landscaping timbers will quickly begin to bow upward as the wetter bottom expands...
For nearly two decades, a collaborative effort between amateur and professional astronomers has been scanning the night sky for massive bodies whose trajectories cross the Earth's orbital path, thereby creating a potential collision someday. Software compares images of the entire sky (acquired in small areas) to look for newly appearing and/or moving points of light. As with amateur radio, which has contributed mightily to the knowledge of wireless communications, so too have amateur astronomers significantly pioneered the field (pun intended) of primarily visual wavelength astronomy. Indeed, they routinely discover asteroids, planet and moon impacts by asteroids and meteorites, and even novae missed by professionals. Panoramic Survey Telescope and Rapid Response System (Pan-STARRS) does the heavy lifting for finding near-earth objects (NEO), but NASA has a dedicated program called Near-Earth Object Observations (NEOO) Program. It includes devising methods to divert the trajectory of a massive body capable of potentially devastating damage on impact. To do so, an explosion is used to jolt the object enough to alter its orbit. It requires detection while far enough away that a small nudge will create an acceptable margin of safety. NASA recently tested its method on asteroid Dimorphos. Control room operators cheered when the onboard camera show it making a direct hit. Score one for science. It did alter the orbit, while also blowing off hundreds of smaller chunks, some of which are now themselves NEO's, Oops. Q: Of all the asteroids out there, why would they select one whose trajectory crosses Earth orbit, not knowing what might happen if something went wrong? It took a rocket scientist to do that.
"The 327 was Cessna's solution to a downsizing opportunity. Then it ended up in a NASA wind tunnel. Once upon a time, GA aircraft manufacturers pursued market niches with the ferocity of wild dingos. When marketing teams identified a potentially underserved customer segment, they wasted no time introducing minor variations to existing models to accommodate it. Compared to today's offerings, the resulting variety of aircraft was spectacularly broad and varied. When Cessna determined some customers would be willing to pay a bit more for a slightly more powerful 172, for example, the company introduced the 175 Skylark. This was little more than a 172 with a different engine, but the company was in pursuit of new market segments and opted to advertise it as an entirely different model. Similarly, Beechcraft identified markets for both full-sized and smaller light twins in the forms of the Baron and Travel Air. With four seats instead of five or six, thriftier 4-cylinder engines, and significantly lighter weight..."
What was considered in 1937 to be a breakthrough feat for a full-size airplane is today accomplished regularly in model airplanes. What took hundreds of pounds of generators, radio gear, sensors, and actuators to perform the first-ever fully automatic landing is now done with a few ounces of microminiaturized GPS receiver, processor, MEMS sensors, servos, and a LiPo battery. The HobbyZone Sportsman S+RTF (see video at bottom) is an example. Most modern commercial aircraft are capable of landing themselves in an emergency situation. Just today there was a news report of an American Airlines pilot that died in flight and the copilot took over to land the airplane; however, that Airbus A320 could have handled the job if necessary...
Many moons ago I designed and built a combined salt & pepper and napkin holder for use on a round oak table we had when first married (1983). It had a Lazy Susan turntable for the base to facilitate easy access by anyone sitting at the table. At some point during our many household moves, we sold both the table and the turntable at a yard sale. For a long time I have been planning to build another to replace it. Finally, I used some leftover hickory wood from my Grandmother clock project and built what you see here. It is about 11½" in diameter; the size was kept as small as practical so as not to take up too much room on the table. One improvement over the first iteration was only placing vertical supports near the four corners, which keeps the back open for inserting napkins without needing to remove the salt and pepper shakers...