Vintage Model Kit Archive

This particular kit is of the Mark's model P-51 Mustang. You can see the Marks Models label was pasted over a Dynaflite box. An Internet search shows at least two varieties of box label, depending on the era. Mark Smith, of Windfree and Windward R/C glider fame, founded the company. According to the Dynaflite website in 1999, "Marks Models became Dynaflite many years ago." The date seems to be around 1995, when Hobbico bought Marks Models, and then turned it into Dynaflite. Construction was of balsa and plywood, vacuum-formed plastic components, and a sheeted foam wing.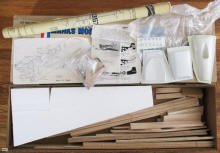 Specifications
Scale: 1 in. = 1.32 ft.
Engine: .40 to .60 cu. in.
Wing Span: 53 in.
Wing Area: 470 sq. in.
Weight: 5-6 lbs.
Radio: 4 Channel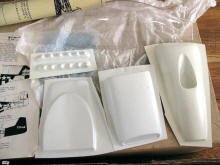 Posted December 5, 2020