For those of you who have asked, here is a list of what we purchased to modify our Victoria, both the modifications and accessories.
In order to facilitate rapid removal and installation of the mast and boom for transportation, a slight modification to the mainsail tack attachment is made. Rather than tying the rigging string directly to the mainsail tack with "TYPE B" knots, and using "TYPE C" knots at the cleats, a snap is installed at the mainsail tack and head attachment points and "TYPE B" knots are used at the cleats.
This permits the mainsail to be easily removed and the tension adjusted at the cleat. Furthermore, the "TYPE B" knot at the cleat is easily lifted off the cleat if the mast needs to be removed.
Tie a length of rigging string to a snap and attach the snap to the mainsail head attachment point. Attach the other end of the rigging string through the mast top and onto the cleat per the manufacturer's instructions.
Sheet Control Rigging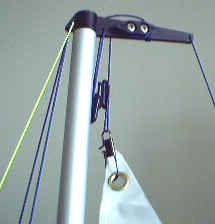 All of the new rigging for the modified Victoria can be most easily understood by studying the photographs. Notice that the steering wheel assembly has been removed to prevent fouling of lines. Also, the top edges of the two black winches have been trimmed flush with lower body diameter to prevent the sheets from getting caught under them. Good luck!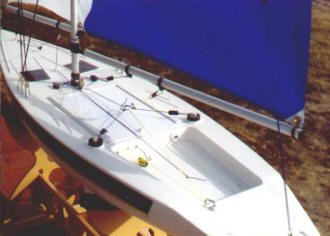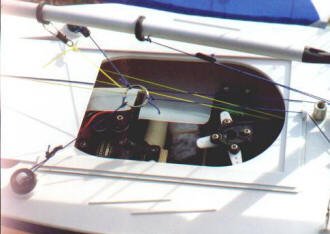 Posted September 12, 2008