The National Association of Rocketry (NAR) has been around since 1957. At one time, the Academy of Model Aeronautics (AMA) was pretty tightly joined with them in covering model rocketry events and promoting model rocketry. In fact, for while there was space allotted in American Aircraft Modeler, AMA's monthly magazine, for model rocketry. From February 1968 through August 1969 there was a newsletter feature entitled "Model Rocketeer" in addition to a separate article, often written by G. Harry Stine. A complete list of all editions is provided below.

The NAR and AMA still work together. For example, the National Aeronautic Association (NAA) delegates authority for aeromodeling and spacemodeling to the Academy of Model Aeronautics (AMA), who has in turn delegated Spacemodeling (model rocketry) to the NAR.
Click the NAR logo to the left and go to the membership page of today's National Association of Rocketry. You can read a sample edition of the NAR's magazine, Sport Rocketry, by clicking the thumbnail image to the right (here is part 2).
Model Rocketeer
Oct 1968 (none)
Jan 1969 (none)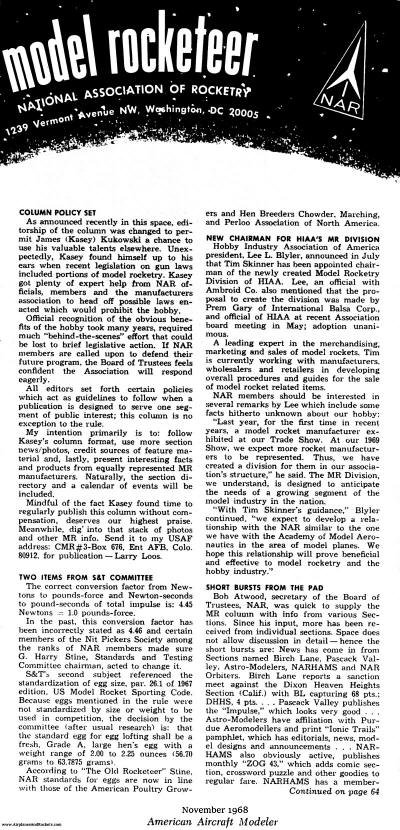 (click for larger version)
---
Page 64 (continued from page 40):
catcher information sheet needed by all Sections . . . write to Andy Elliot, 10203 Leslie St., Silver Spring, Md. 20902 for your latest copy ....
NAR Orbiters Newsletter is exceptional on layout, originality and news .... Other Section pubs include "Igniter Current," by the Fairchester Section, which claims membership rolls within top three Sections across U.S. .... A top-notch pamphlet was sent in by West Covina Model Rocket Society in California which is pledged to "Safety, Education, and Recreation Through Model Rocketry." Their photos are excellent, info presented together with a city map to locate range is well worth effort, but most important is back-page list of 17 clubs or related MR activities in the state that gives name, advisors, range sites and brief comments.
Posted October 16, 2020