Thunder Tiger Victoria
External Switch Modification
External Switch Modification
A simple length of bent wire can be used to enable the radio power switch to be turned on and off without opening the hatch cover. Most power switches come with a hole pre-drilled.
Drill a 1/16" hole on the cockpit front wall in line with the power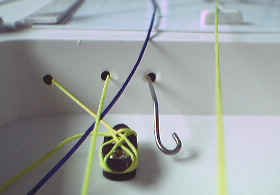 switch. Bend the piece of wire to pass through the hole in the power switch and through the cockpit wall. Bend the cockpit end of the wire into a loop for easy gripping, and also downward to prevent the sail sheets from getting caught. A small spring is shown to keep the wire from sliding out of the switch hole. A twist-tie would work as well.









Kirt BlattenbergerCarpe Diem!

(Seize the Day!)

Even during the busiest times of my life I have endeavored to maintain some form of model building activity. This site has been created to help me chronicle my journey through a lifelong involvement in model aviation, which all began in Mayo, MD ...
Webmaster:
Kirt Blattenberger
BSEE - KB3UON
Family Websites:
RF Cafe | Equine Kingdom

All trademarks, copyrights, patents, and other rights of ownership to images and text used on the Airplanes and Rockets website are hereby acknowledged.

Academy of Model
Aeronautics

Tower Hobbies

Horizon Hobby

Sig Mfg

Brodak Mfg