Samarai - A Maple Seed-Inspired UAV

Lockheed Martin engineers are developing a UAV (Unmanned Arial Vehicle) that flies like a maple seed. Bill Borgia, head of the company's Intelligent Robotics Lab, explains that the project is part of its work on DARPA's Nano Air Vehicle project. One really cool feature is its onboard video camera that, with the help of software, produces a stable picture that appears to be fixed (non-rotating). Per the designers, the advantage of this platform is compact size and low cost, which can make them expendable. Operation is a bit clumsy right now, but no doubt with improved software and sensors they will eventually be useful.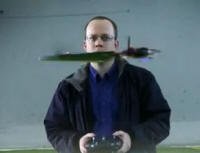 "The Nano Air Vehicle (NAV) program is developing an extremely small, ultra lightweight air vehicle system (less than 15 centimeters and less than 20 grams) with the potential to perform indoor and outdoor military missions. NAV is exploring novel, flapping wing and other configurations to provide warfighters with unprecedented capability during urban operations. NAV will push the limits of aerodynamics, power conversion efficiency, endurance and maneuverability for very small air vehicle systems. These platforms will be revolutionary in their ability to harness low Reynolds number physics, navigate in complex environments, and communicate over significant distances. Flight-enabling nano air technologies include aerodynamic design tools to achieve high lift-to-drag airfoils; lightweight, efficient propulsion and power systems; guidance, navigations and communication subsystems; and advanced manufacturing and innovative subsystem packaging and configurations layouts." - DARPA

There was a free flight model called the Charybdis that appeared in the October 1972 edition of American Aircraft Modeler.




Samarai - A Maple Seed-Inspired UAV

Posted July 10, 2012

Kirt Blattenberger
Carpe Diem!


(Seize the Day!)

Even during the busiest times of my life I have endeavored to maintain some form of model building activity. This site has been created to help me chronicle my journey through a lifelong involvement in model aviation, which all began in Mayo, MD. There is a lot of good information and there are lot of pictures throughout the website that you will probably find useful, and might even bring back some old memories from your own days of yore. The website began life around 1996 as an EarthLink screen name of ModelAirplanes, and quickly grew to where more server space ...

Copyright 1996 - 2022
Webmaster:
Kirt Blattenberger
BSEE - KB3UON
Family Websites:
RF Cafe | Equine Kingdom

All trademarks, copyrights, patents, and other rights of ownership to images and
text used on the Airplanes and Rockets website are hereby acknowledged.