Other pages: 1 | 2 | 3 | 4 | 5 | 6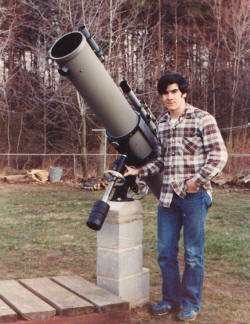 Me with the Piper Colt that I flew while taking flying lessons. I went into the USAF before being able to take my check ride because of icy weather at Lee Airport, Edgewater, MD (circa 1978). I had 50+ hours logged & FAA written passed. Never did get my license (heavy sigh). Note the Annapolis Flying Service ad above showing flying lessons were $18 per hour solo, and $24 per hour with the instructor!
In May of 1992, I began taking flight lessons again in Hagerstown, MD, but only logged a few hours before quitting due to not having enough time. Oh well, maybe some day...
Above is an aerial image of Lee Airport; and the surrounding area from sometime in the 2005-2006 timeframe. The airport itself has not changed much since I last flew from there in Fall of 1978.

I cannot believe that this same old white building is still the headquarters. I can remember walking in to pick up the keys to the Piper Colts (three of them at the time). In the back room, they used to keep the cut off shirt tails of all the people who soloed there. Mine might still be in there. It would be nice to visit some day and see it they would let me look for it.
This Quonset hut is probably the one where I took my ground school. It was definitely a cool environment.