June 1957 American Modeler

[Table of Contents]
Aircraft modeling has undergone significant changes over the decades - both in technology and preferences. Magazines like American Aircraft Modeler, American Modeler, and Air Trails were the best venues for capturing snapshots of the status quo of the day. Still, many things never change, so much of the old content is relevant to today's modeler.
Whether you are here to wax nostalgic, or are interested in learning history, hopefully you will find what you are seeking. As time permits, I will be glad to scan articles for you. All copyrights are hereby acknowledged.

Here are a couple videos of pulse jet engines being run. The top one is a home-made pulse jet engine mounted on an R/C Long EZ. The bottom video presents a short tutorial on how the Dyna-Jet is built, how it is made, and how to start it.

Back in the 1950s, a company named Curtis Automotive Devices manufactured the now-converted Dyna-Jet engine (they typically sell for >$400 on e-Bay - if you can find one). Are they still around today? Yep, only the company name is now Curtis Dyna-Fog. One of the first pulse-jet products aerospace engineer Russell Curtis produced was the Dyna-Jet "Red Head" miniature engine for use in model rocketry (per their website).

This advertisement was scanned from page 57 of the June 1957 edition of American Modeler.

According to the U.S. Bureau of Labor Statistics' inflation calculator the $35.00 price in 1957 would be $269.89 in 2010 money.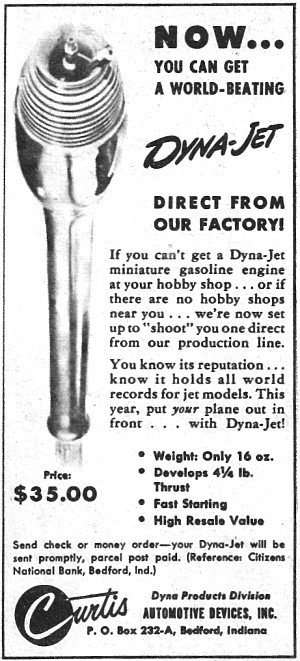 Below is the e-Bay auction mentioned.