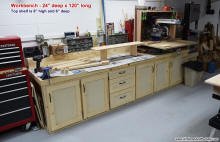 After moving back into our first house in Erie, Pennsylvania, I needed to build a couple workbenches in the basement. The ones I used when there before were made from Gorilla Rack metal frame parts and had been left at the previous house. Besides, I really prefer a good, sturdy wooden framed workbench with doors and drawers. Also, after using many types of materials as a work surface, I have found that a good interior grade plywood (7-ply or greater) works best. It is very stiff and durable, and does not puff up and distort when water is spilled on it.
One criterion was that the standard 24" depth (half a 4' x 8'sheet of plywood) would be insufficient for the workbench that would hold benchtop power tools, since at least 4" - 5" of the back of it is normally taken up by parts bins and soup cans with things sitting on and in them. So, even though it meant having to buy more plywood, I decided to make that workbench 28" deep. The other, which would be the primary project workbench, is 24" deep and 120" long (for holding the radial arm saw). A separate shelf unit was built for the back of the 24" deep workbench so that it would retain a full 24" work area. It has been a very nice convenience.
Framed doors and drawers were built to add a little class to the project, rather than just cutting flat plywood panels for everything. The glued-on pine frames add a lot of rigidity to all. Standard self-closing cabinet hinges used on doors. Heavy duty ball bearing slides used on drawers.
I did not draw plans for these workbenches, so the best I can offer is these few photos of the building process. If you look closely, you will see that none of the screws were installed from the outside where they would be visible. Also, all joints were glued with Elmer's Carpenter's Glue. These are by far the nicest set of workbenches I've ever had.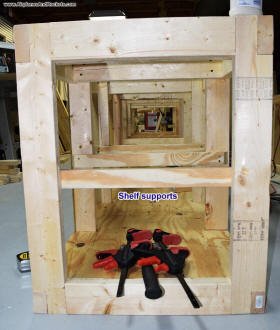 Posted October 3, 2015