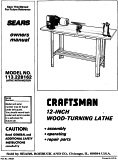 My introduction to using a wood lathe was my high school wood shop class in my Junior year (circa 1974-1975) at Southern Senior High School in Harwood, Maryland. Mr. Charles Smith was the teacher. I have him to thank for imparting a lifelong love for woodworking. Back in those days, we respected teachers by addressing them Mr., Mrs., or Ms. Surprisingly, about a decade after graduating, I ran into Mr. Smith at Anne Arundel Community College while taking a class toward my electrical engineering degree (he was not in my class).
The wood shop at Robins Air Force Base, in Warner Robins, Georgia, was well-equipped, and include a wood lathe. I used it to turn a couple lamps from blocks of oak provided by a Sgt. Eddie Nugent from my radar shop, who had cut down a tree a year or so earlier. One of the two, which incorporated a burnt-out thyratron tube from the S-band search radar, disappeared decades ago. I gave it to Melanie as a Christmas present before we got married (in 1983). The other oak lamp is still around today.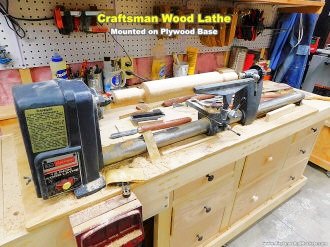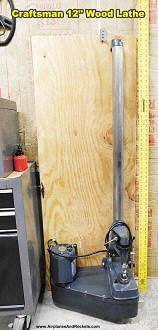 After getting out of the USAF in 1982, I bought a Craftsman wood lathe from the Sears store in Parole Plaza, in Annapolis, Maryland. When Melanie and I got married, I set it up in the basement work shop of our tiny Cade Cod house in Arnold, Maryland. You can also see in the photo my first Craftsman radial arm saw, also bought at the Parole Plaza Sears store. After four decades of moving from place to place many times, I still have a Craftsman radial arm saw and wood lathe in my work shop - along with many other Craftsman tools including a drill press, a disc/belt sander, jointer, band saw, planer, and many powered and unpowered hand tools. It is a travesty that poor management at Sears cause the century-old company to fail.

Our current house has an oversize single car garage with a partition separating a wood shop area from the car area. It is cramped, and there is no room for having the Craftsman 12" wood lathe permanently set up, so I mounted it on a piece of 3/4" plywood that is sized to fit the top of my custom-built roll-around workbench. Placing the workbench, radial arm saw, band saw, and planer on wheels allows me to roll them out onto the driveway for big jobs, thereby avoiding the huge mess of saw dust to clean up. It has worked out very well. I recently planed down more than a dozen rough-cut rad oak and white oak boards, and cleanup was as easy as sweeping the mountainous piles chips into plastic garbage bags, and using the leaf blower to clear the smaller stuff.
When not in use, the wood lathe stands against the wall with a sheet of plastic over it. The weight as shown is just a tad over 80 pounds, which is manageable for manipulating it up onto the benchtop. BTW, I also have the Copy Crafter shown in the catalog picture above.
Posted July 1, 2023