During our frequent walks around the neighborhood here in Erie, Pennsylvania, Melanie and I would see houses that had flower boxes installed beneath the windows and vowed that some days we would do the same for our house. Finally, as a present to Melanie for her birthday, I made measurements and drew up some plans for a set to put on the front of our house. After doing a search on the Internet for ideas, I decided on a fairly unique configuration where the boxes themselves sit on a shelf that is mounted to the house. That allows the boxes to be easily removed for servicing, and per one website, to be replaced in the fall and winter with an arrangement of gourds, small evergreens, and various other seasonal decorations.
Four separate flower boxes were built of pine wood. Separate shelves and mounts were built and installed under the two single-width bedroom windows and one long shelf was built and mounted for the double-width living room window. My goal was to build and finish those flower boxes and shelves once and have them last for 10 to 20 years. Achieving that goal would mean assembling them sturdily and applying a very durable finish.
The outsides received two coats of Kilz primer and three coats of outdoor Valspar white paint. The insides of the flower boxes and the tray surfaces got a concoction of a blend of turpentine, tar pitch, linseed oil, and spar varnish - a mixture described on a USDA website that said it should yield at least 10 years. 3/8" drainage holes were drilled in the bottoms of the flower boxes (before finishing them) and pieces of 1/8" thick Plexiglas were placed on the trays as spacers so that the flower boxes would drain properly and would allow air to circulate under the boxes.
I do not have plans for the flower boxes and trays, but the boxes are about 42" long and 7-1/2" high. 3/4" x 8" pine boards were used throughout. The curvy brackets are laminated from two 3/4" pieces and were cut on a bandsaw, then sanded smooth on a belt sander.
Since the units were going to be heavy, I wanted a very robust mounting system that would not result in the brackets pressing against the side of the house. Not only would that cause wear and tear on the siding (vinyl), but it would distort the siding obviously. I decided to fabricate "keyhole" type brackets from 1/8" thick aluminum bar stock, and use 5/16" lag screws in the wall's 2x4 studs. Mechanically, a torque is applied that tends to rotate about the bottoms of the brackets, so that means an outward, pulling force on the top lag screws and an inward, pushing force on the bottom lag screws. A washer was screwed into the key hole slot in the bracket under where the lag screw head contacts it; that provides a hard surface that will resist compression and wear over time. That's what my theory says, anyway. Check back in a few years to see if it proves valid!
Enough writing for now. Here are the photos.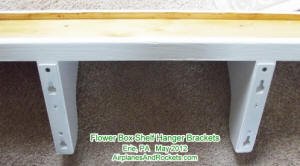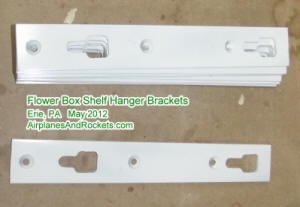 (custom hangers cut, drilled, and filed to shape)
Posted May 28, 2012