Comparing today's model aircraft engine horsepower per cubic inch of displacement or horsepower per ounce of weight is like comparing the engine on the Wright Flyer to a modern Lycoming. These ignition type engines were not necessarily hard to start, but adjusting the timing and the needle valve for a reliable run was a bit of an art form. Working engines can still be bought on eBay for a decent price. There are a couple videos on YouTube of people running some of the old ignition motors like the Ohlsson 23 and the Forster 29.
Logging the Motor Market
The Ohlsson "23"
With the exception of the larger cylinder, the Class "B" Ohlsson "23" is identical in appearance to the "19."
The crankcase manifold is aluminum alloy die cast in one unit. An outstanding feature of the "23" is that its crankcase, fuel tank, needle valve, and timer are the same as the "19." A change or replacement of the two engines for competitive flying in Class "B" and "A" is allowed, inasmuch as the mounting specifications are the same.
The fuel tank on the Ohlsson "23" carries a poppet valve-type gas cap which is known as the Ohlsson "Jiffy Fill" tank. Gas caps of this type are featured on all Ohlsson engines for 1941.
Included in the features of the "23" is a ground, matched, and lapped piston and cylinder, enclosed fool proof timing, one piece spot-welded crankcase cylinder construction, and ball bearing thrust bearing.
The engine may be mounted radially or upon beam mounts, and it is reported to function equally well upright or inverted. Also, according to the makers, all engines are block tested before shipment.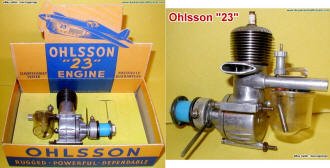 Specifications: Bare weight, 4 ounces; flying weight including specified batteries, 9 ounces; cubic inch displacement, 0.23; bore, 11/16"; stroke, 5/8"; cycle, two; ports, 3; rated horsepower, 1/6; r.p.m., 500 to 10,000; fuel ratio, 3 parts gas to one part oil; propeller pitch and diameter, 6" to 7", 10" to 12"; static thrust rating, 30 ounces. Minimum weight of model powered by Ohlsson "23" permissible under AMA ruling, 16.98 ounces.
Forster "29"
Model "29," manufactured by Forster Brothers, is a Class "B" engine which develops 1/5 h.p. at 7,200 r.p.m. The weight of the complete engine is 5 3/4 ounces.
Its aluminum alloy crankcase is diamond bored and provided with strong mounting lugs. The streamlined exhaust pipe, bypass manifold, and crankcase are cast in one unit. Additional cooling fins on the crankcase and exhaust stack assure better cooling as, well as adding to appearance.
The cylinder is machined from solid bar alloy steel and micro-finished to the closest limits, the manufacturers claim. Extra long cooling fins on the cylinders increase circulation of the airflow.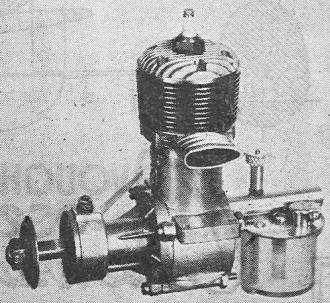 The crankshaft is one piece alloy steel, fully counter-balanced, hardened, and precision ground. The high dome piston is made of alloy steel. The wrist pin, which is made from alloy steel is full floating with a "snap" lock retainer.
The new rotary valve developed by the Forster Brothers is claimed to be the most efficient type for high speed two cycle engines. Oversize high speed bearings are used throughout. The timer is of the automotive type with adjustable tungsten points.
Specifications: Flying weight with two medium batteries and spark coil, is 10 1/2 ounces; recommended propeller, 11" to 12" diameter with 6" to 7" pitch.
Each Forster "29" is block tested before shipment. Minimum weight of model powered by Forster "29" permissible under AMA ruling, 23.7 ounces.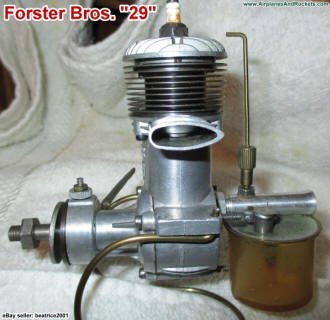 Articles About Engines and Motors for Model Airplanes, Boats, and Cars:
Posted September 26, 2015