Here are a few more helpful model building tips from the May 1961 issue of the Academy of Model Aeronautics' American Modeler magazine. Many are not so useful anymore because inexpensive and commercially made versions of the gadgets and tools presented are readily available. Of course you can still do it yourself for any of them, and if time and/or money is an issue, you might need to. The first one requires a product that is scarce these days - photographic negatives. Nearly every household used to have old negatives laying around, but not anymore. Maybe your parents or grandparents have some they could spare if you really want to give it a try. The painted-on water-transfer decal seems like a pretty slick idea, and could still be a useful trick. I wonder how well it works. The pressure-sealed, quick-fill fuel tank cap looks dandy as well for any type aircraft, not just rat racers.
Sketchbook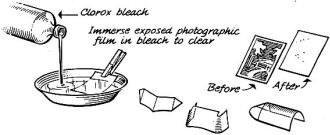 Handy source of windshield material is old photo negatives. Remove emulsion in Clorox bleach, reports Walker Montgomery, Warner Robins, Ga. Dry, cut to shape, then cement in place.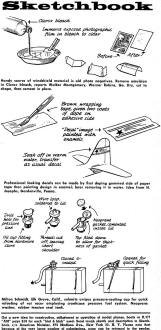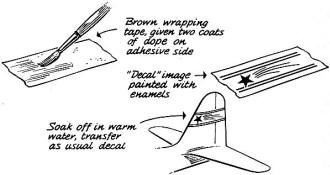 Professional looking decals can be made by first doping gummed side of paper tape then painting design in enamel; later removing it in water. Idea from H. Josephs, Gardenville, Penna.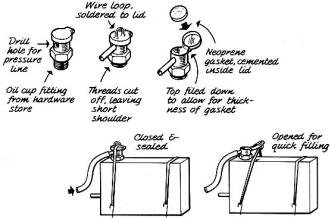 Milton Schmidt, Elk Grove, Calif., submits unique pressure-sealing cap for quick refueling of rat racer employing crankcase pressure fuel system. Neoprene washer, rubber tension seal tank.
Got a new idea for construction. adjustment or operation of model planes, boats or R/C? "AM" pays $10 for each "hint & kink" used. Send rough sketch and description to Sketch· book, c/o American Modeler, 575 Madison Ave., New York 22, N. Y. Please note that because of the very large number of submissions, none can be returned to the sender.
Posted June , 2020