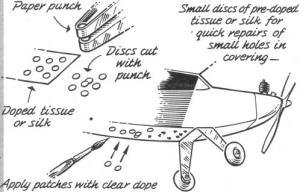 Veteran modeler Frank Heeb, Xenia, Ohio, keeps supply of silk and tissue pre-doped discs for quick patching of small holes in covering. Discs are quickly cut with paper punch.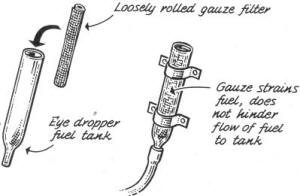 Roll of gauze inserted in eyedropper gas model tank does not restrict fuel flow claims Stephen G. Kinner Jr., Gloucester, Mass. Fuel is filtered and tank capacity only slightly reduced.
Lewiston, Idaho modeler Joseph Evans cuts simple jigs or templates from waxed cardboard to slide onto fuselage frames during assembly. Held by friction. Assures "square" corners and accurate alignment.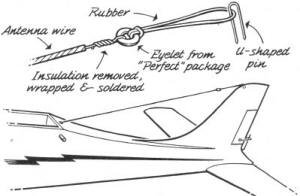 Non-noise-generating RC antenna mounting system is idea of Earl A. Thompson, Livermore, Calif. Eyelet joins antenna end with tension rubber loop. Used reliably four years, says Earl.
Difficulty of pinning spruce leading edge member in place during wing assembly was solved by Kenneth Lau, Hong Kong, China. Rubber bands looped around strip, stretched and pinned, holds L. E. in position during cementing.