This Sketchbook was scanned from the March 1962 American Modeler, page 40. Most building tips are timeless. Even in this era of ready-to-fly (RTF), almost-ready-to-fly (ARF), bind-and-fly (BAF), etc., there are still many modelers who build their own aircraft. Nearly all top tier competition fliers build their own models, as do aficionados of vintage (aka old-timer) models. Some guys just would rather build than buy a pre-build airplane, whether from a kit or from plans.
This page has links to every edition of Sketchbook that I have so far.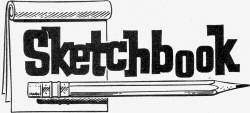 Outdoor hand-launch glider fuselage can be made by joining flat spruce member with triangular balsa strip for strength and resilience, says Ed Sarlls, Jr., Victoria, Texas.

Steve Widmayer, Glendale, Calif., simply adds necessary number of steel washers to crankshaft to build up fly-wheel of desired weight. Tube adapter can be used if washers are too large for shaft.

M. D. Atkinson, Flagstaff, Ariz., finds used plastic "dropper attachment" from hospital Intravenous equipment serves as handy timer tank for free-flight models. Fuel supply is visible.

Experimental finishing technique by B. L. Van Pelt, Vallejo, Calif., produced good coverage with light color, unusual "depth" of finish. Four oz. talc per pint of color dope gives body for smoothing.
Posted March 9, 2013