This "Sketchbook" was scanned from the July 1968 American Aircraft Modeler magazine. Most building tips are timeless. Even in this era of ready-to-fly (RTF), almost-ready-to-fly (ARF), bind-and-fly (BAF), etc., there are still many modelers who build their own aircraft. Nearly all top tier competition fliers build their own models, as do aficionados of vintage (aka old-timer) models. Some guys just would rather build than buy a pre-build airplane, whether from a kit or from plans. This month's building tips include a method for making scale WWI machine guns, fabricating scale flat-head rivets and screws, properly balancing an airplane, and a holding jig for use when soldering.
Sketchbook
Have a new idea for construction, adjustment or operation of model aircraft or RC? AM pays $10 for each 'hint & kink' used. Send rough sketch and description to Sketchbook, c/o American Aircraft Modeler, Potomac Aviation Publications, Inc., 1012 14th St., NW, Washington, D. C. 20005.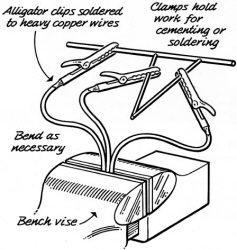 Series of alligator clips soldered to individual copper wires and held in bench vise serves as versatile holding device for soldering or cementing multiple part units. Submitted by Jack E. Jowett, Fairview Park, Ohio.
Bob Meuser, Oakland, Calif., builds realistic WW I machine gun barrels of balsa. Air vents along barrels are burned into balsa cylinders with heated screwdriver tip using wood block as spacing guide.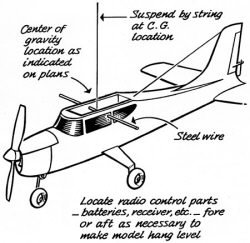 Proper CG location is important for safe test flight says Clyde E. Lower, Gainesville, Fla. Piano wire is passed through fuselage at desired CG location; model suspended by string from wire, parts installed to balance as needed.
Accurate tool for incising realistic, miniature flush screw heads or simulated rivets in aluminum sheet is idea of J. Warren Kohler Sr. Glen Head, N. Y. Parts machined from drill rod and hardened. Even rows in panels quickly made.
Posted August 21, 2021