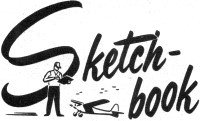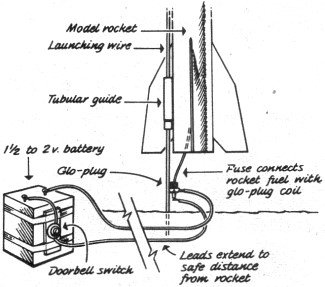 Safety-minded James Happ, North Brook, IIIinois, uses glo-plug to ignite model rocket. Lengthy wires make circuit with battery. Fuse ignited when switch closes circuit. Hazards lessened.
Homemade booster battery clip is from Mitsuo Katayama, San Pedro, California. Turned back ends of wire fittings makes contact easy. Plywood block keeps battery leads apart.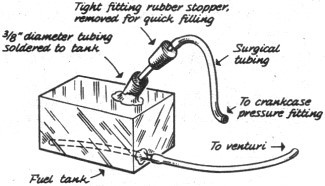 Clif Norman, Philadelphia, Pennsylvania, offers answer to problem of quick-filling pressure tank. Removable stopper allows fast fueling, quick resealing.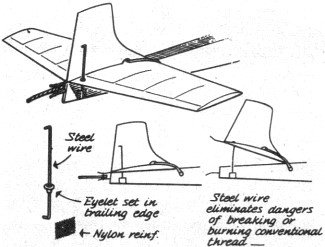 Practical solution to burned or broken stabilizer pop-up retainer threads is steel wire member. William Kakoni, New York City, anchors thin wire to fuselage with nylon ·patch.
See original page.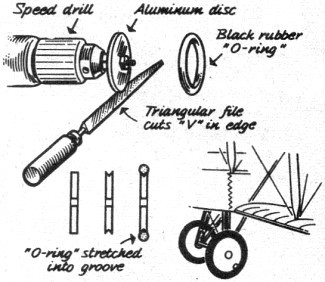 Neat scale-like wheels for World War I models are produced by Alfred Epstein, Montreal, Canada, using "O-ring" oil seals for tires and turned aluminum discs, grooved, for wheels.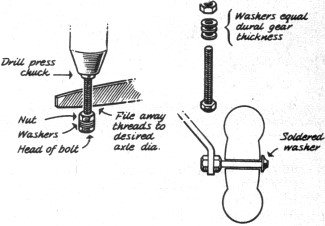 English modeler Alan Thomas submits neat axle for heavy-duty dural landing gears. Turned-down bolt body fits wheel precisely; threads left for bolting to leg endl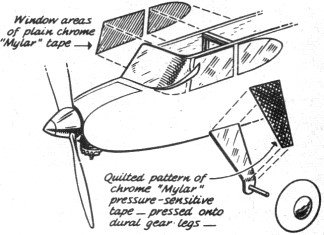 Use of pressure-sensitive "Mylar" chrome materials is suggested by J. W. Scherer, Wyckoff, New Jersey. Smooth chrome quickly cut and positioned for windows; fancy textures for landing gear.